EVGA Z270 Classified K Motherboard Review
EVGA Z270 Classified K Motherboard Review
Author:

Dennis Garcia
Published:
Friday, February 03, 2017

Onboard and Included Features
The I/O panel is rather self explanatory and quite sparse for any motherboard. Staring at the left you will find a CMOS reset button. Yes in place of the PS/2 ports or usable USB there is a little red button. Next to that you'll find a single HDMI and Display Port connection. Dual Gigabit Ethernet sitting atop of four USB 3.0 ports. The first is an Intel i219 followed by a Killer Networks E2500 controller. Next to that is a block of USB 3.1 connections including two Type-C ports.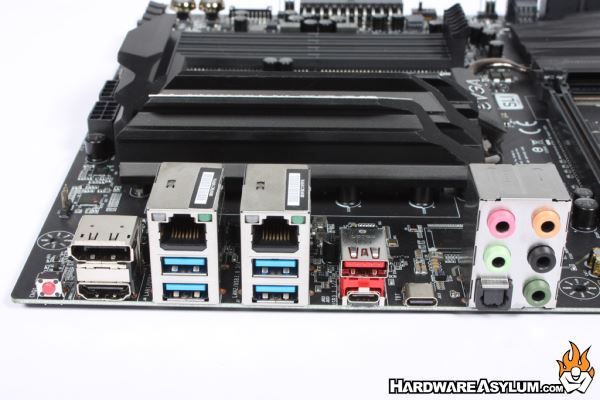 EVGA has always been very progressive in making sure they support the latest technologies. On this motherboard you'll find two USB 3.1 Type-C connectors and no PS/2 ports. Even the dedicated USB 2.0 ports are gone which can cause some older devices to no longer work.
Onboard Audio
The audio solution found on the Z270 Classified is using the Creative Labs Sound Blaster Recon 3Di audio controller supporting up to 6 channels (5.1) with a digital connection over optical. Like most of the high-end gaming motherboards you'll find some specialized audio capacitors near the controller.
To further illustrate that the layers are completely separate on the reverse side of the motherboard you'll find a series of LEDs that light up and shine thru the PCB layers when the system is powered on.
Included Goodies
We have come to expect more goodies from our high-end motherboards to help justify the additional cost. EVGA includes a good amount of parts with the Z270 Classified to get you up and running. These are shown below.
In terms of documentation you will get very healthy users guide which will help you locate all of the key components on the motherboard and even help troubleshoot POST codes in the event you have problems booting.
An EVGA branded I/O shield is also included along with a single SLI bridges for 2-way configurations. Starting with the NVidia Pascal GPU SLI is done over an High Bandwidth SLI bridge that uses both sets of SLI fingers on the video card. Knowing this you may need to acquire a proper SLI bridge depending on your GPU configuration. EVGA has high quality ones available on their website so be sure to check it out.
Anotehr cool item is an anodized aluminum I/O cover which is an optional decorative item used to cover the I/O connections and clean up your system builds. It attaches to the motherboard using the existing motherboard screws and can be installed at any time.