EVGA Z390 FTW Motherboard Review
EVGA Z390 FTW Motherboard Review
Author:

Dennis Garcia
Published:
Friday, November 16, 2018

Introduction
It has been an interesting time for Intel CPU launches. As of this review we have seen two 9000 series CPUs launch for the both LGA 115x and LGA 2066. These were released in short succession. Neither of the new processors are all that interesting as they are based on the same basic architecture, same socket and same form factor. However, they do one thing extremely well.
They add more cores!
As with any new CPU launch we often get a refresh of available motherboards. Sometimes the new chipset is electrically the same so there is no reason to update anything and other times the chipsets remain the same and its the board that gets a facelift.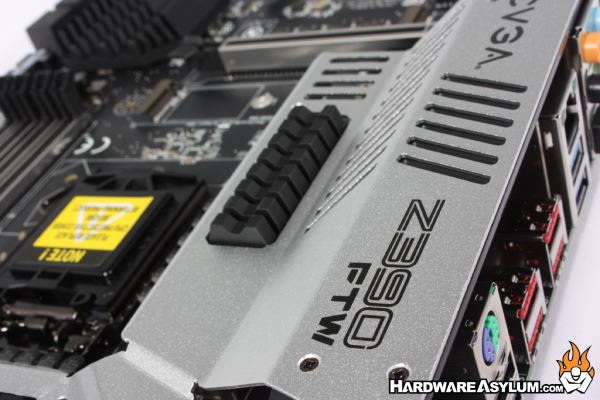 In this review I'll be looking at the new EVGA Z390 FTW motherboard. Those of you familiar with the EVGA lineup will recognize that this board is a middle tier board and happens to be the first of the Z390 motherboards to be released. As I already mentioned the board is designed to handle the new Intel 8-core CPUs and shares a similar layout to the previous Z370 generation.
Specifications
Chipset – Intel Z390
SLI – 2-Way SLI
SATA – 6x SATA 6Gb/s
RAID 0, 1, 5, 10, JBOD
USB – 6x USB 2.0 (2x Rear I/O, 4x from 2 Internal Headers)
Memory Support – 4 DIMM Dual-Channel DDR4 4133MHz+ (up to 64GB)
Capacitors – 100% Solid State
Ethernet – Intel i219V Gigabit NIC
Audio – Realtek ALC1220 7.1 Channel HD Audio + Nu Audio
Fan Headers – 6 (2 CPU PWM, 4 PWM/DC)
PCB – 6 Layers
PCI-E Slot Arrangement – 2x16, 1x4, 2x1
NVMe Support – Yes (PCIe)
Form Factor
ATX Form Factor
Length: 12in - 305mm
Width: 9.6in - 244mm
In the past I have typically reviewed the EVGA Classified and Dark editions which are great but have a very specific market. These users have a more refined palate and demand more from their hardware. Because of this (and other reasons) I'm going to dial things back a bit and attempt to take a real world approach to my review. There will still be benchmarks and some overclocking but will attempt to inject some more opinion over my typical "these are the facts, make up your own mind" approach. (or try to at least)