EVGA Z390 FTW Motherboard Review
EVGA Z390 FTW Motherboard Review
Author:

Dennis Garcia
Published:
Friday, November 16, 2018

Board Layout and Features Continued
Dual channel memory comes standard on the Coffee Lake processor and the Z390 FTW supports standard speed DDR4 modules up to 4133Mhz with overclocking support beyond that. A maximum of 64GB is addressable with the proper module density.
Benchtop controls are located in the upper right of the motherboard next the memory slots and near the 24 pin power connector. These consist of power, reset and CMOS clear. Nearby you'll find a dual purpose debug LED that reads off post codes during boot and later relays CPU temp.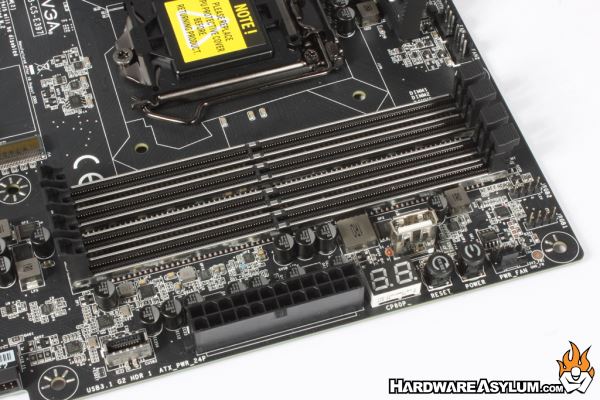 If you happen to BIOS issues with your motherboard the USB 1.0 port near the power and reset buttons can be used to force flash the Z390 FTW with a fresh image. This is normally reserved as an overclocking feature so with any luck nobody will need to use the USB port on a regular basis.
Internal SATA connections number six and follow the new SATA6 connection standard. If you happen to use any of the the onboard M.2 slots be sure to note that ports 4/5 will be disabled when using M Key 2. Next to the SATA connectors you'll find a standard USB 3.0 header mounted 90 degrees with its own cutout on the PCB.
The Z390 chipset comes with 24 PCI Express 3.0 lanes and unlike the lanes coming from the processor the chipset PCIe are intended for connectivity and storage. You will find a total of three M.2 slots on the motherboard all with different key types for different devices. The M.2 Key M1 will be your primary M.2 slot and is located at the bottom of the motherboard (or right when looking at our photo)
An innovative and highly criticized feature of EVGA motherboards is their desire to have everything at 90 degrees. Many hardware enthusiasts like this option as it helps with cable management while others may think the exposed power leads are dangerous. For me I enjoy the 90 degree plugs and find them to be extremely helpful.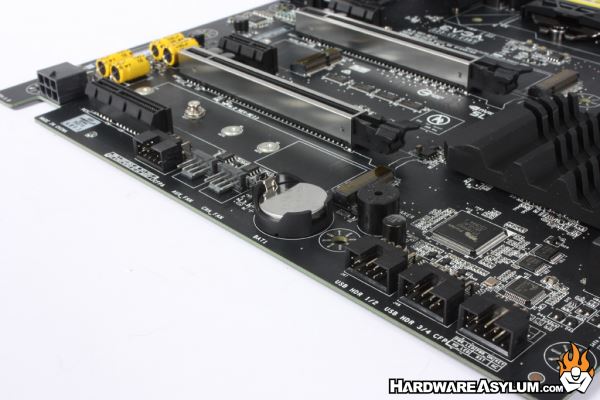 Helpful to a fault, if the cable routing holes do not line up with the plug location then good luck getting the cable attached. Likewise running the board outside of a case on a bench table has cables spider off into every direction.