TRX40 Aorus Master Gaming Motherboard Review
TRX40 Aorus Master Gaming Motherboard Review
Author:

Dennis Garcia
Published:
Wednesday, February 26, 2020

Conclusion
I'll say it again; I was one of the lucky ones. When the first Threadripper hit the market I was impressed with the X399 motherboard options but decided to sit the generation out. Sure that might have hurt my HEDT ego but, I saved me some money and headache. When we fast forward to Computex 2019 there was another new Threadripper was on its way and promised a new memory controller, faster cores and PCI Express 4.0.
Needless to say I got excited to try it out.
Lucky for me the new Threadripper 3 required a new socket and old motherboards were not reverse compatible so buying a new processor wasn't a big deal. Newegg had them in stock on launch day AND sold out in about 5 minutes. A week later they were back in stock and I was lucky enough to buy a 3960X before they went out of stock once again. Much to my surprise (and after two reviews) I discovered that my early release 3960x was defective but only limited memory performance.
In this review we looked at the TRX40 Aorus Master motherboard for the Threadripper 3. This motherboard is one of the most feature rich of the TRX40 boards I have tested having come with an advanced cooling system, decorative backplate, oversized heatsinks, active motherboard cooling and all the expansion slot armor a boy could ask for.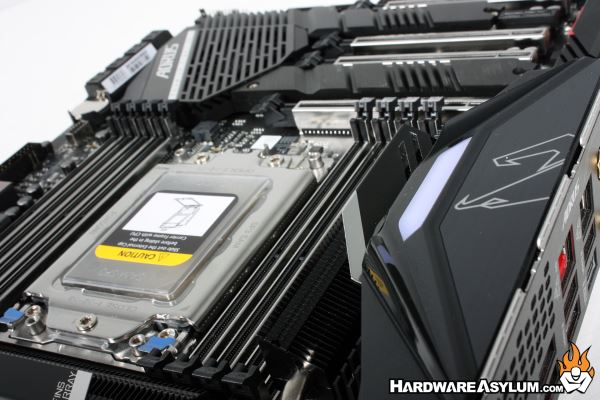 In terms of overall motherboard design the TRX40 Aorus Master is very typical. M.2 SSD slots number three and are all located in the PCI Express expansion slot area. There are a total of four 16x PCI Express slots and ideally could support 4-way video cards or two big video cards and a dedicated audio device.
Onboard features include what you would expect with plenty of USB 3.x connections and the SABER HIFI audio that will direct DAC audio directly to the headphone output while offering a separate audio processor for desktop speakers.
For me I enjoy a bit of overclocking and like how Aorus included some old school overclocking features such as voltage test points and benchtop buttons for power and reset. Unfortunately there are no LN2 friendly buttons which leaves UEFI and software controls for any overclocking adventure. Given how little headroom any Threadripper has in clock ceiling I'm not surprised that Gigabyte (Aorus) decided to save some dev dollars and drop the additional features.
When it comes to the complete package I am rather impressed with the TRX40 Aorus Master. The design is solid, plenty of cooling features, lots of heatsinks in the proper location which also provide some decorative covering for the "ugly" PCI that modern system builders seem to hate.
The TRX40 Aorus Master is also one of the only TRX40 Threadripper motherboards to come with a full coverage backplate. To be honest I love this feature but found that it needed to be removed to fit into my test bench. That wasn't a helpful feature for me but, won't pose any issue for those looking to build a real system around this platform.
Bad Things
Discrete RGB LED
Black and Silver Color Scheme
Excellent UEFI Menus
Custom Audio System
AC Wireless Onboard
Dedicated AIO and CPU Fan Headers
Three M.2 NVMe slots
Three way Multi GPU Support
Large Heatpipe Cooler
Onboard RGB
Full Coverage Backplate
Bad Things
Memory performance issues
Lackluster overclocking
UEFI features not sticking
Hardware Asylum Rating