TRX40 Aorus Master Gaming Motherboard Review
TRX40 Aorus Master Gaming Motherboard Review
Author:

Dennis Garcia
Published:
Wednesday, February 26, 2020

Onboard and Included Features
The I/O panel is always an interesting part of the motherboard as it dictates what connectivity options will be available. Starting at the left we have two CMOS related buttons. The top button is for clearing the CMOS, a common then when overclocking while the other allows for an automatic BIOS flash for when the system is no longer operational.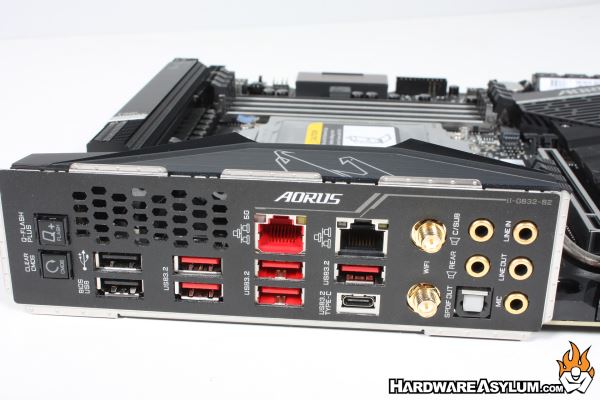 Everything else is pretty much USB. USB 3.2 occupies the entire I/O. Gen2 are double stacked near the BIOS buttons. The Ethernet jack with the red socket is the special 5G Gigabit for super speed networking. Finally we have onboard Intel AC Wireless and 8-channel audio with a digital connection over optical. Audio connections are also gold plated for the extra bling and marked so you won't have to guess when plugging in your speakers.
The new trend in motherboard features is to include the I/O shield on the motherboard instead of making it a separate part. I understand the reason behind it but still think it is a pretty dumb idea. However, in the case of the TRX40 Aorus Master the I/O shield is also covering a cooling fan designed to pull some heat from the VRM heatpipe array. Given how many users install an AIO or DIY watercooler that reduces the amount of fresh air needed to keep the motherboard cool and this fan helps solve that problem.
Onboard Audio
Onboard audio is built around three chips. A Realtek ALC4050H controller is driving the entire system and using a Realtek ALC 1220-VB to send audio the rear audio connections which is normally your desktop and surround speakers. Ideally this means for anyone using headphones the audio will be cleaned by a SABRE DAC and offering a slightly different audio experience.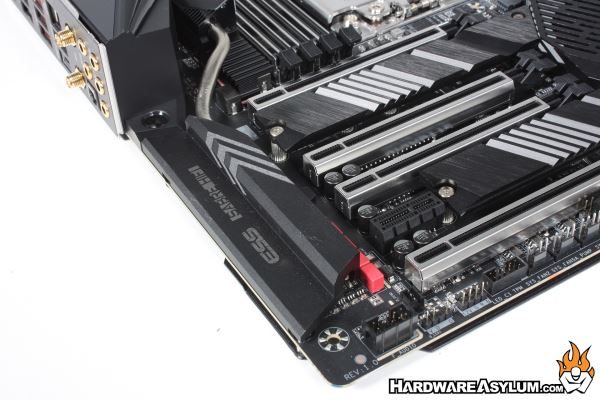 For this review I only tested the rear speaker output however, in my experience the ESS SABRE DAC is quite good provided the audio connections in your case are not junk.
Included Goodies
One of the benefits to upgrading to a specialized motherboard is that not only do you get more features onboard but also in-box. The TRX40 Aorus Master comes with a number of nice accessories including what you see below.
You also get some RGB LED accessory cables, SATA cables and wifi antenna
I am pleased to say that along with the four SATA cables and various other cables Aorus has included both a full user's manual. This might be a small price to pay but the two can become invaluable during the initial setup and later on when you are called in to support the system long after Gigabyte has removed the board from their website.