ASUS Maximus XII Hero WiFi Motherboard Review
ASUS Maximus XII Hero WiFi Motherboard Review
Author:

Dennis Garcia
Published:
Wednesday, May 20, 2020

Onboard and Included Features
The I/O panel is always an interesting part of the motherboard as it dictates what connectivity options will be available. Starting at the left we have two CMOS related buttons. The top button is for clearing the CMOS, a common then when overclocking while the other allows for an automatic BIOS flash for when the system is no longer operational.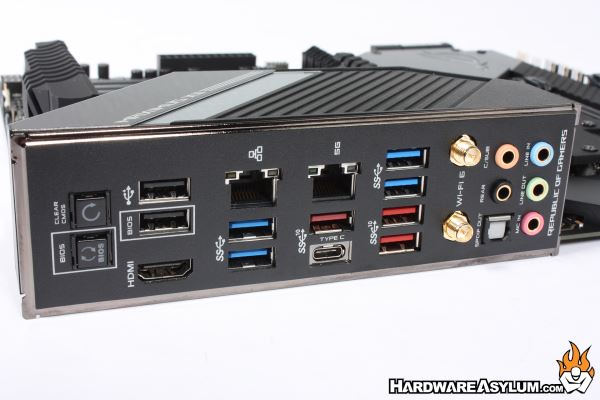 Everything else is pretty much USB, network, audio and, of course, HDMI. USB 2.0 ports are in black and the one circled is for the BIOS Flash Back feature, use this port when using the Flashback feature and consult the manual for the specifics. The rest of the USB is a combination of USB 3.2 Gen 1 and Gen 2 ports which are indicated by color.
Network is divided into three options. For gamers on the go we have the new Intel Wi-Fi 6 supporting up to 802.11 ax and Bluetooth V5.1. Wired Ethernet is the standard Intel I219V 1Gig or the Marvell AQtion 5GB. Finally we have the 8-channel audio with a digital connection over optical. Audio connections are also gold plated for the extra bling.
The new trend in motherboard features is to include the I/O shield on the motherboard instead of making it a separate part. I understand the reason behind and while I still think it is a pretty dumb idea is saves you from even dumber online slackers selling these boards online who cannot seem to remember that the I/O shield is an important part.
Onboard Audio
Onboard audio is based on the ASUS SupremeFX S1220 controller. As with most motherboards the audio occupies a separated section of the motherboard that is electrically separated from the rest of the main PCB. You can see this separation in the PCB layers where the board is devoid of color.
To further illustrate that the layers are completely separate on the reverse side of the motherboard. It would seem that lighting this section up has fallen out of favor so You'll just have to look for it yourself.
Included Goodies
One of the benefits to upgrading to a specialized motherboard is that not only do you get more features onboard but also in-box. The ASUS Maximus XII Hero comes with a number of nice accessories including what you see below.
If you are wondering about the small fan that is part of the MOS VRM cooling system giving you a little extra airflow over the VRM. This can be helpful when running AIO and DIY watercoolers and when overclocking since the VRM on this series can get quite warm.
You also get some RGB LED accessory cables, SATA cables, wifi antenna and really good manual.