MSI MEG Z390 ACE Motherboard Review
MSI MEG Z390 ACE Motherboard Review
Author:

Dennis Garcia
Published:
Monday, December 17, 2018

Onboard and Included Features
The I/O panel is always an interesting part of the motherboard as it dictates what connectivity options will be available. Starting at the left we have two CMOS related buttons. The top button is for clearing the CMOS, a common then when overclocking while the other allows for an automatic BIOS flash for when the system is no longer operational.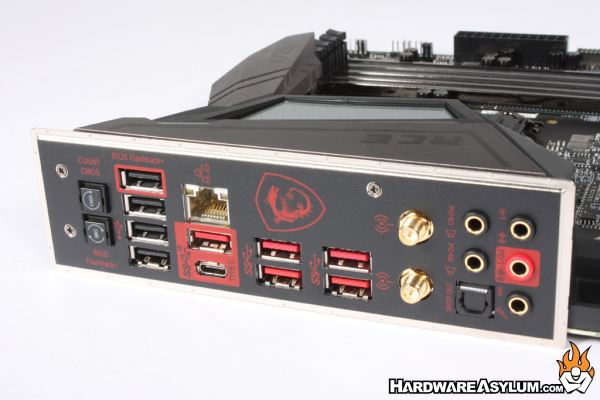 Everything else is pretty much USB. USB 2.0 in black. VR Ready USB 3.1 Gen 2 in the red square along with a Type C connection. Killer Networks E2500 Ethernet, USB 3.1 in red followed by onboard Intel AC Wireless and 8-channel audio with a digital connection over optical. Audio connections are also gold plated for the extra bling.
The new trend in motherboard features is to include the I/O shield on the motherboard instead of making it a separate part. I understand the reason behind it but still think it is a pretty dumb idea. On the positive the slackers selling these boards online can't "not" include the I/O shield.
Onboard Audio
Onboard audio is based on the Realtek ALC 1220 7.1 controller and built to support the MSI Audio Boost HD technology with an ESS DAC and Nahimic sound processing. The audio occupies a separated section of the motherboard that is electrically separated from the rest of the main PCB. You can see this separation in the PCB layers where the board is devoid of color.
To further illustrate that the layers are completely separate on the reverse side of the motherboard you'll find a series of white LEDs that light up and shine thru the PCB layers when the system is powered on.
These lights are also covered when the EMI (decorative plastic) cover is in place.
Included Goodies
One of the benefits to upgrading to a specialized motherboard is that not only do you get more features onboard but also in-box. The MSI MEG Z390 ACE comes with a number of nice accessories including what you see below.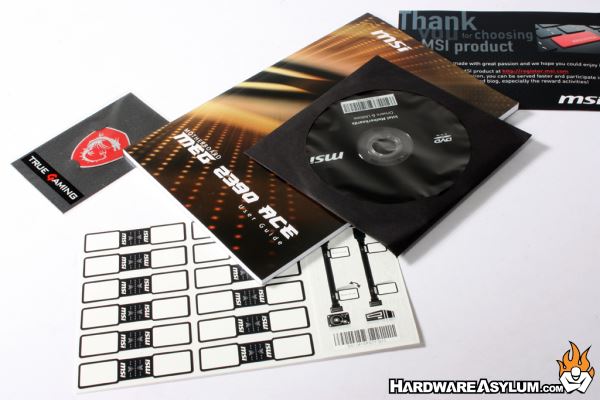 The Z390 Ace supports two-way SLI and three-way crossfire. Given that two-way SLI is the hot thing supported by NVIDIA you'll find a single SLI HB bridge in the box with the MSI Dragon logo across the top.
You also get some RGB LED accessory cables, SATA cables, wifi antenna and really good manual.