MSI Z170A Gaming M7 Motherboard Review
MSI Z170A Gaming M7 Motherboard Review
Author:

Dennis Garcia
Published:
Wednesday, October 21, 2015

Conclusion
"Gaming" or "Game Ready" is a common buzzword in hardware marketing as a way to help define what that particular bit of hardware is designed to do. When it comes to motherboards this would normally indicate an upgraded audio solution followed by some fancy magic done to help with network latency. On the surface this may not seem like much but for the average consumer it gives you one more box to check when attempting to decipher why one is better than another.
In this review we looked at the MSI Z170A Gaming M7 motherboard. Gaming in the name indicates the board is part of the gaming line from MSI and designed to take advantage of everything the professional gamers want from their systems.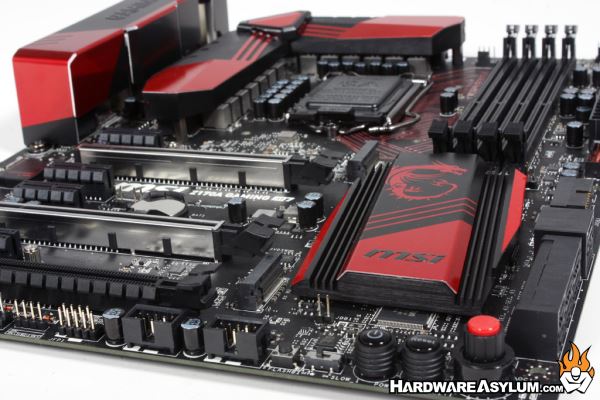 Overall motherboards layout is straight forward and following standard ATX spec. Memory slots to the right of the processor, expansion slots down below. Slot layout is optimized for dual card Multi GPU setups and scored a 3.25 on the Multi GPU Index. The index looks at technical and physical aspects of the PCI Express layout and scores better if these numbers are favorable and lower if Multi GPU isn't well supported. The M7 scored typical for an LGA 115x based motherboard and offers plenty of airflow around your video cards, which is important when running more than one card.
The Z170 chipset supports a total of 20 PCI Express lanes and dedicates many of them to storage. M7 supports two M.2 slots with 4x lanes each and two more SATA Express connections if you are into that sort of thing.
In addition to SLI and Crossfire support the MSI Z170A Gaming M7 gives you triple monitor support with built in connections for 2x HDMI and a 1x Display Port. Assuming you can live with the shame of Iris Pro graphics on a gaming motherboard you'll get triple monitor support with resolutions up to 4K.
Overclocking is a big part of the enthusiast community and seems to be a selling point for most consumers even if they never intend or refuse to learn about overclocking. With the Gaming M7 you are given two paths to overclocking performance. The first, and maybe the easiest, is the Game Boost dial on the motherboard and in the UEFI. Simply dial in the level of boost you desire and reboot. We turned things up to eleven and got 4.7Ghz from the Core i5 6600K no problem. Of course being of the enthusiast nature I took the more traditional approach and was able to get 4.8Ghz from the 6600K and was able to apply a modified XMP memory configuration, tweak the memory controller speed and adjust voltages all from the easy to use UEFI menus.
Good Things
Dual Card SLI Support
Extra space between video card slots
SATA Express
Dual M.2 Slots
Triple Monitor Onboard Video
Lighted Ethernet Keystone
Excellent Overclocking
Onboard Game Boost
USB 3.1 Type C
Bad Things
Difficult to see what Game Boost is setting or the target it will attain
Very Few I/O based USB ports (all via headers)
Hardware Asylum Rating