ZOTAC RTX 2080 AMP Extreme Video Card Review
Author:

Dennis Garcia
Published:
Friday, December 21, 2018

Card Layout and Features
The Zotac RTX 2080 AMP Extreme is a big card. The cooler is a triple fan design and will occupy two and a half slots on your motherboard (for sanity sake we shall call it three). Ladies will love the 12.8 inches making it one of the longest NVIDIA based cards on the market though to be fair this is typical of other AMP Extreme video cards so while the card is quite large it is no longer teased on the playground for being so. Height wise the card measures in at less than 5.5 inches.
Needless to say, save this card for a full sized case and if you choose to go vertical with the GPU ensure there is ample breathing room.
Back plates have become a standard on video cards over the past few years and serve as a passive heat spreader for the PCB. While the GPU cooler handles the primary heat load the advent of silent fan technologies has caused cards to run hotter than they did in the past. The heat spreader just prevents hot spots while also protecting the PCB from damage.
Of course, most will notice that a decorative backplate helps to pretty up your system and the bold ZOTAC gaming logo and tagline "Live to Game_" lets others know you mean business.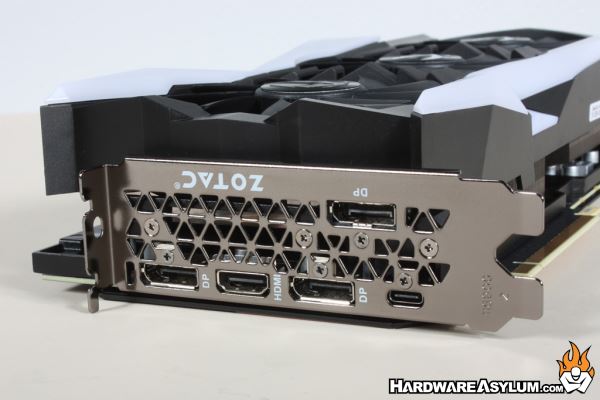 Video output is comprised of a single HDMI and three Display Port connections. Four of these can be used at the same time allowing you to run 3-way surround and still have a spare monitor for use outside of the game. You may also notice a USB Type C connection near the bottom. This is your Virtual-link connection for certain VR headsets.
SLI are possible using the RTX 2080 but not using the traditional SLI fingers as the newer cards are now using NVLink. This is a linking technology similar to SLI but offers more bandwidth and currently limits RTX cards to 2-Way configurations including the ZOTAC RTX 2080 AMP Extreme.
Given that this card is taller than most you will want to plan your build accordingly. For instance if you plan to run SLI be sure to get two cards at the same time, One because finding additional cards can be difficult and two because you can't use NVLink if the fingers are not at the same level.
On the positive though, you can use any NVLink bridge to link your ZOTAC RTX 2080 or you can be one of the cool kids and buy a ZOTAC branded bridge.
Power is delivered though two 8-pin PCI Power connections and are faced backwards per the latest norm from NVIDIA.
Cooling
The Zotac AMP! Extreme features the Triple Fan IceStorm 2.0 cooling solution with Freeze Fan Stop technology. (it turns the fans off when they aren't needed). All of the fans will spin to offer maximum performance and to help control noise they appear to also work in zones across the heatsink.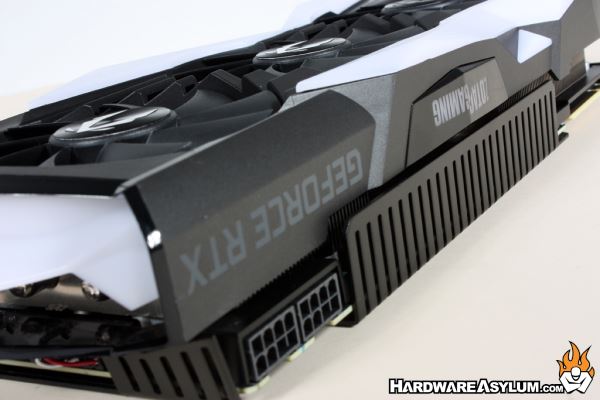 One issue I have with the IceStorm 2.0 is that it when both the fan shroud and backplate are installed it completely obscures the heatsink. Of course there are vents for air to escape but they appear restrictive and visually that isn't something you want from a product designed for high performance cooling.