ZOTAC RTX 2080 AMP Extreme Video Card Review
Author:

Dennis Garcia
Published:
Friday, December 21, 2018

Introduction
When RTX launched this summer it started the age of Ray Tracing and Deep Learning Super Sampling. These are two core features of the RTX architecture and promise to revolutionize how games look and are developed. Much like with PhysX these are currently technologies that only work with NVIDIA graphics cards and many games using this tech are still in development. Of course Ray Tracing and DLSS are great things to talk about when looking at founders edition video cards however, as many readers of Hardware Asylum know I'm a hardware guy, I love to overclock and prefer to look at what makes a custom product special.
In this review I'll be showing you the Zotac RTX 2080 AMP Extreme. The RTX 2080 chip really needs no introduction in terms of what it is. It is a higher-end chip in the Turing lineup sitting between the RTX 2070 and RTX 2080 Ti and will likely become the workhorse in the 20-series lineup.
On the other hand the ZOTAC AMP Extreme is an apex product in their video card lineup featuring the highest clocks and most features.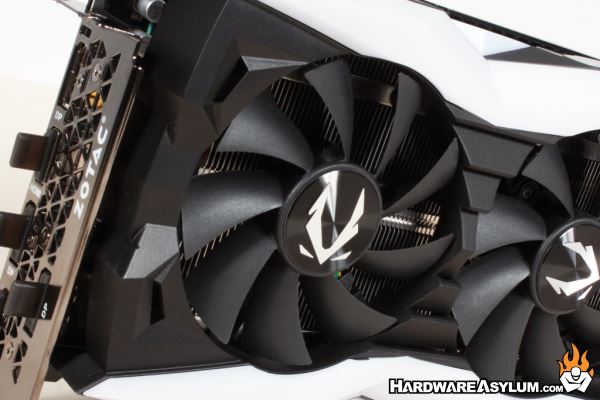 Features
IceStorm 2.0
Freeze Fan Stop
16+4 Power Phase
Active Fan Control
GDDR6 memory
PowerBoost
SPECTRA 2.0 Lighting System
FireStorm
OC Scanner
Specifications
GPU GeForce RTX 2080
CUDA cores 2944
Video Memory 8GB GDDR6
Memory Bus 256-bit
Engine Clock Boost: 1905 MHz
Memory Clock 14.4 Gbps
PCI Express 3.0
Display Outputs 3 x DisplayPort (4096x2160@60Hz) / HDMI 2.0 (3840x2160@60Hz) / USB Type-C
HDCP Support Yes
Multi Display Capability Quad Display
Recommended Power Supply 650W
Power Consumption 280W
Power Input Dual 8-pin
DirectX 12 API feature level 12_1
OpenGL 4.5
Cooling 3 x 90mm fans
Slot Size 2.5 slot
SLI NVLink
Supported OS Windows 10 / 7 x64
Card Length 324mm x 136mm x 59mm (12.75in x 5.35in x 2.32in)
When it comes to custom video cards there are several big names in the US market and many have been featured on this website. Big names do not always mean big companies but rather how those companies market themselves. For instance there is a nasty trend in the enthusiast hardware market where the cheapest product is the one that sells. As a result many of the more expensive, and often better, products are hidden from view or become part of a limited release to help promote the mainstream. ZOTAC cards have started appearing more often in online retailers making them one of the more accessible brands to choose from and a brand that doesn't hold anything back.
For this review I won't be focusing so much on the RTX 2080 GPU, by now everyone should know what the RTX can do. So, Instead I'll be looking at what makes the AMP Extreme different from other cards and why it might be one of the best out of box overclocked RTX cards you can buy.