ZOTAC RTX 2080 AMP Extreme Video Card Review
Author:

Dennis Garcia
Published:
Friday, December 21, 2018

Zotac FireStorm Utility
While you can overclock a video card using any utility it is always best to pick one from the board maker when running a custom PCB. It is very common for there to be specific features that only their software can unlock and to ensure things will work correctly you need to be running the correct software.
Zotac has developed Firestorm for their video card lineup which now has a completely different interface. It took me awhile to figure out how everything works and after that things were pretty easy. You have already seen the main interface on the Overclocking page so be sure to flip back if you missed it.
Some things to note is that fan controls apply independent of clock controls and you have to select manual before making any changes to the fan speed. I'd hope this gets resolved in the future since the interaction there was rather confusing.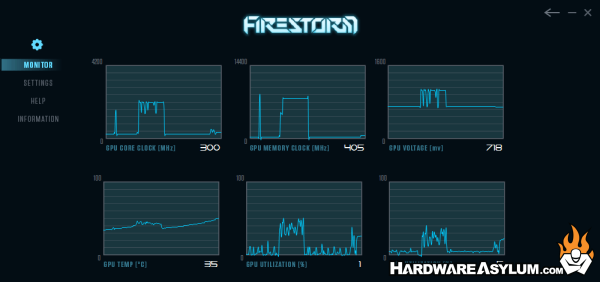 You can control up to four GPUs with Firestorm and for the most part everything is there on a single screen. Clicking the gear will pull up the monitor page allowing you to see GPU Clock, Voltage, Memory Clock, and utilization. Sadly no Power or GPU Temp Target, which honestly is a little annoying.
Spectra
Zotac has really turned up the dial on RGB lighting effects. Some of that stems from their MEK machines that allow you to sync RGB effects from the chassis to the video card. By the looks of it the white plug on the back of the 2080 AMP Extreme is how you hook this card into the MEK. There might even be a way to hack it for use in other machines.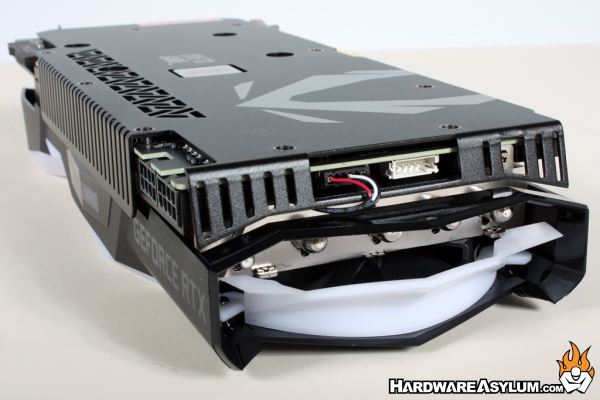 Spectra allows you to control the four RGB LED zones on this card. There is a Zone for the logo and three zones around the card. These are indicated on the screen.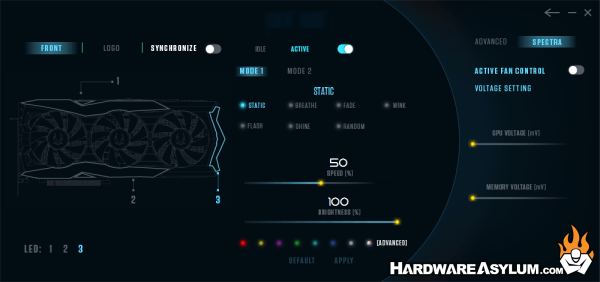 From there you can choose to have the zones synced or program them independent. The effects are split into two Modes with color selections and speed for the effect you choose. A cool feature is that you can adjust the RGB LEDs based on if the card is active or idle and have different lighting for each.
Below are some shots of the lights in action.
Personally I'm not offended by the lighting effects or the AMP Extreme shroud design. It serves a purpose and if you ever decide to turn lights off it still looks good.