ZOTAC RTX 2080 AMP Extreme Video Card Review
Author:

Dennis Garcia
Published:
Friday, December 21, 2018

AMP Extreme Uncovered
There are just five screws holding the IceStorm cooling solution to the video card. Four of them are spring screws near the GPU with a single located opposite of the video connections. Remove all of these and the cooler will fall off the card.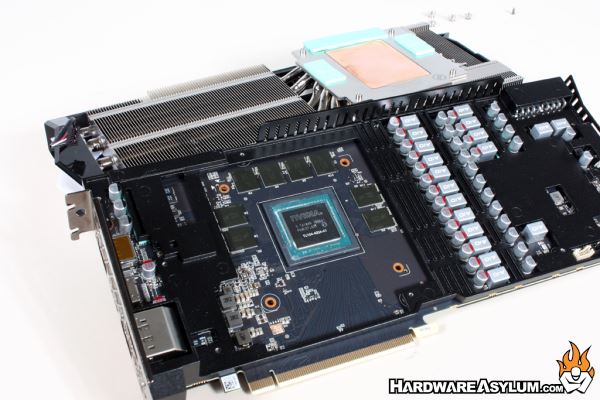 IceStorm 2.0 is a heatpipe based cooling solution comprised of six heatpipes radiating from a single GPU cold plate. One of the reasons some GPU coolers are more efficient than others is how it isolates heat zones. With IceStorm there is a copper cold plate right over the GPU with a nickel plated heatspreader that makes contact with the memory chips. These two are physically connected despite not being part of the same piece of metal.
The Zotac IceStorm 2.0 is very similar to the EVGA ACX cooler in that it is designed to cool in stages. This becomes apparent when you trace the heatpipes as they enter the radiator. There are five heatpipes tasked with moving heat to the larger of the two radiators. The final heatpipe loops back to the smaller radiator above the GPU.
Interestingly enough none of these contact the VRM directly.
I am impressed with the sheer size of the IceStorm 2.0 cooler and how all of the important components make direct contact with the cooler.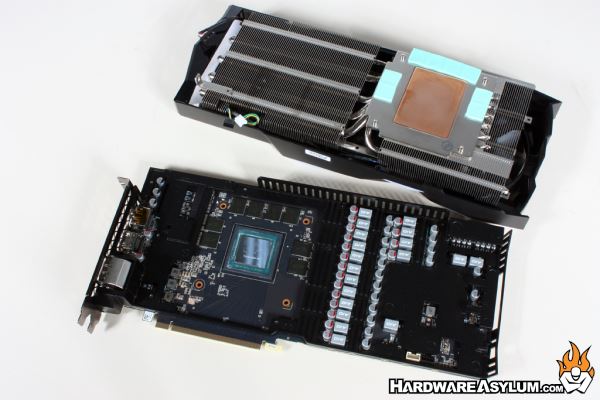 The Zotac RTX 2080 AMP Extreme comes with a twenty phase VRM for handling the power requirements of the RTX 2080 AMP Extreme. Power delivery is extremely important for card stability and is why this card comes with dual 8-pin power connectors and oversized VRM. To help equalize power delivery Zotac has included their POWER BOOST technology which uses special capacitors to reduce ripple noise and power fluctuations. You can see them on both sides of the VRM and a large one located on the back side of the PCB.
To cool the monster 16+4 power phases you will find a very large heat spreader covering the entire PCB. This aluminum cooler is secured with the decorative back plate and comes with a few fins to help with heat dissipation.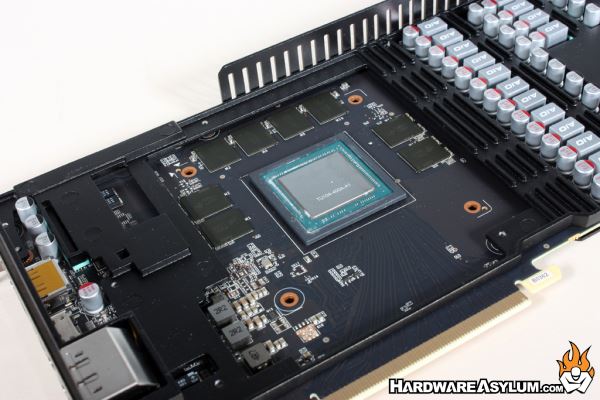 It is not uncommon for companies to offer this kind of solution and while I would personally like to see a much more efficient heatsink design. The heat spreader approach does work and I personally like them when overclocking on LN2. Additionally for watercooling enthusiasts having a heatspreader separate from the primary cooler allows the option to cool without a full coverage waterblock.