Post Computex Overclocker Gathering at Gigabyte HQ
Author:

Dennis Garcia
Published:
Saturday, June 08, 2013
Introduction
Overclocking is a huge marketing vehicle for motherboard and video card vendors and over the past several years many of them have participated in or, hosted their own overclocking demonstration at Computex. One of the first major overclocking shows was hosted by Foxconn in 2008 to show off the capabilities of the Quantum Force motherboard line. Shamino and Kingpin were hosting the event but also invited other famous overclockers to help out. This grand style show has since been carried on by GSkill who invites motherboard partners to participate in an overclocking demonstration that both attracts people to their booth and allows them to show off what their products can do.

A side benefit to having overclocking shows and competitions is that after the show you can get everyone together in a social setting to overclock or simply share war stories. Gigabyte was kind enough to invite me out and it was quite an experience.

The highlight of the event goes beyond meeting some great overclockers but also the ability to see 4-way GTX Titan being benched along with an AMD APU running "full pot". Full Pot is an overclocker term which describes having the LN2 container at its coldest setting allowing the liquid nitrogen to simply boil away instead of evaporating off after the initial pour. AMD is really good about having chips without cold bugs and is the only reason you can do this.

The most exciting aspect of the gathering is watching the quest for 7Ghz. Dino was testing a few CPUs and was given a good chip that responded well to temperature, accepted voltage and would cold bug around -110c. The challenge here is that very few CPUs will run much past 6.2Ghz and anything past 6.6Ghz is extremely rare.
I'm happy to report that I got the following photo before the night was through. The rest you'll just have to watch HWBot for.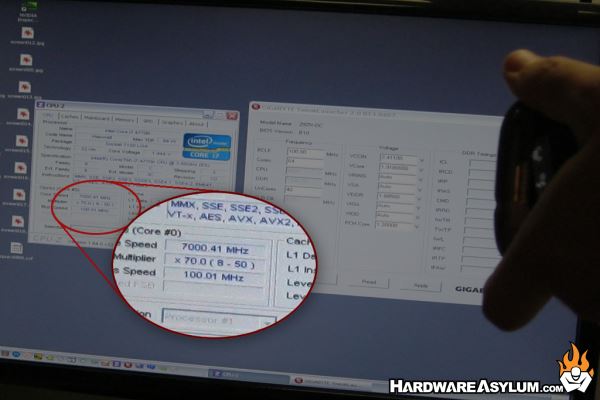 Available Images