Roccat Isku and Kone Gaming Keyboard and Mouse Review
Roccat Isku and Kone Gaming Keyboard and Mouse Review
Author:

Darren McCain
Published:
Wednesday, June 27, 2012

Introduction
Founded in 2007, ROCCAT may be the freshest name in gaming. Not only do they offer a full line of professional level gaming peripherals, they also offer support for the eSports scene with a selection of avatars, custom Counter Strike maps and GUIs. Even their site offers some of the most innovative marketing I have ever seen. Our European friends have been enjoying ROCCAT products for a few years now and only recently have ROCCAT products become more widely available around the world.

The ROCCAT line of gaming peripherals is designed in cooperation with professional gamers and is an ever evolving product line. Teams like aAa and mTw are dominant forces in the European scene and provide continuous feedback on the ROCCAT line of products. ROCCAT sponsored teams and fans have taken to the name ROCCATEER in support of the brand.

Perhaps the most innovative feature of the ROCCAT line is their ROCCAT TALK system. TALK is a driver system that lets compatible ROCCAT devices work together through common driver support and features. ROCCAT cleverly calls this synergy a SET Bonus.

Today we will be looking at two of the most popular TALK compatible ROCCAT devices, the Isku Illuminated Gaming Keyboard and the Kone[+] gaming mouse.

ROCCAT Isku - Illuminated Gaming Keyboard
The ROCCAT ISKU - Illuminated Gaming Keyboard is the latest keyboard offering from our German friends. Much like the archetype German reputation would suggest the Isku is designed to be durable and feature rich. ROCCAT has a strong reputation for providing industry leading customization and their driver support is unparalleled.

Isku is a 123 key membrane keyboard and is currently only offered in this black with blue accent lighting style. The actual footprint is smaller than a traditional keyboard, or most gaming keyboards for that matter, measuring just 20" across. With the oversize textured wrist rest the width measures in at a more bulky 9.75" (24.7cm x 50.9cm). The overall effect is clean edges that bring to mind the chiseled good looks of a modern Lamborghini.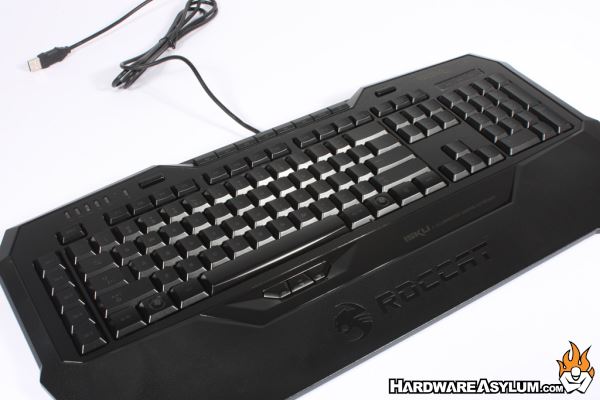 Features
Blue Key Illumination with 6 brightness levels
3 Easy Shift[+] Zones for easy key duplication
36 easy-to-reach Macro Keys including 3 Thumbster keys
Macro Live! Recording with dedicated M-Rec button; 180+ macros in 5 profiles
8 Configurable Media & Hotkeys 25+ assignable functions
Medium-height keys with an optimum keystroke & pressure point; advanced anti-ghosting; 1000Hz polling rate
ROCCAT DRIVER + MACRO MANAGER incl. Sound Feedback; Macro Presets for games, multimedia and office apps
Extra-large Granular wrist rest with special surface texture
Integrated cable channels for better device organization
Non-slip base with lock-on keyboard feet
Ultra-fast profile switching 5 Profile-Status LEDs
ROCCAT TALK - SET BONUS by combining products