Roccat Isku and Kone Gaming Keyboard and Mouse Review
Roccat Isku and Kone Gaming Keyboard and Mouse Review
Author:

Darren McCain
Published:
Wednesday, June 27, 2012

The Keyboard Software
I have already talked a lot about the custimization offered by the Easy-Shift[+] zones but it's the software where things really start to shine. Functions are distributed across 5 tabs in a nice logical way. Profile controls are always available across the bottom of each page for easy adjustments.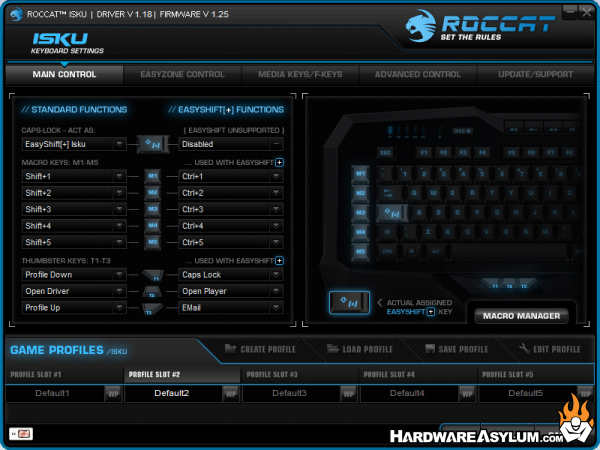 Each of the 5 profiles can be individually programmed and saved to allow for more profiles to be used as needed. The little WP button selects a profile to be a windows default choice. Profiles can be manually selected or associated with a particular application/game. I definitely appreciate having a profile load automaticaly when I launch a favorite game. Down at the left corner you can choose the default language for the driver. 17 of the more common languages are supported.

The Main Control and EasyZone Control tabs are where the bulk of the features can be found. In the Main Control tab you select the functionality for each of the macro keys and the thumbster keys. Both areas have a standard function and an Easy-Shift[+] function.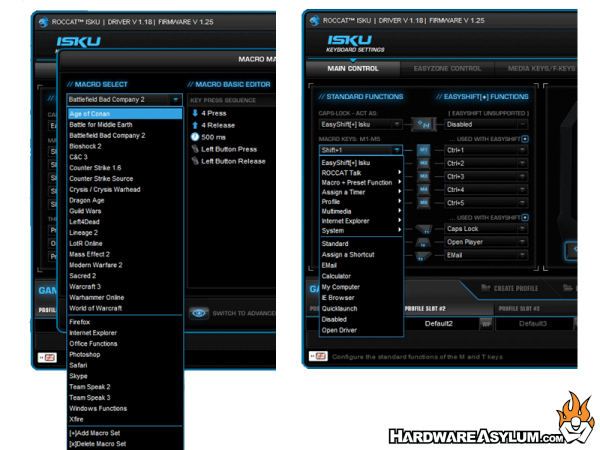 Choosing the function for each key is as easy as opening the menu and selecting the desired functionality. As you can see here, ROCCAT has provided a selection of common functions alongside the ability to customize each key manually.

Things get really interesting when you start to think about assigning macros to the individual keys. ROCCAT comes preloaded with a pretty broad cross section of popular titles already configured. Your favorite game may not be represented but it is a safe bet that a similar game in style is there for you to build off.