Roccat Isku and Kone Gaming Keyboard and Mouse Review
Roccat Isku and Kone Gaming Keyboard and Mouse Review
Author:

Darren McCain
Published:
Wednesday, June 27, 2012

Mouse Layout
Right out of the box the Kone[+] reminded me of old Microsoft gaming mice with a sharp front and a sloping hourglass back end. I have been through more mice than most and the shape felt instantly familiar. The Kone[+] measures in at 13.5cm x 7.8cm and is currently only available in a corded USB version.

The outside surface is smooth with a tactile finish ROCCAT calls their Soft Touch Surface. It's hard to describe but the feel is smooth and soft to the touch without being a distraction. All 8 of the buttons are a large easy to find size and placement is intuitive to the touch. The scroll wheel is slightly larger than the typical designs and the larger surface is notched providing a confident and smooth roll.

The bottom surface reveals the new 6000dpi engine along with an easy to access adjustable weight system. 6000dpi is sure impressive but putting that to work requires solid tracking. ROCCAT accomplishes this using the TDCU to calculate the lift-off distance and adjust to your individual mouse surface. I put this to work on both my bare desktop and my favorite mouse surface; the now out of print glass CorePad Magna. On both surfaces the Kone[+] performed as if nothing had changed.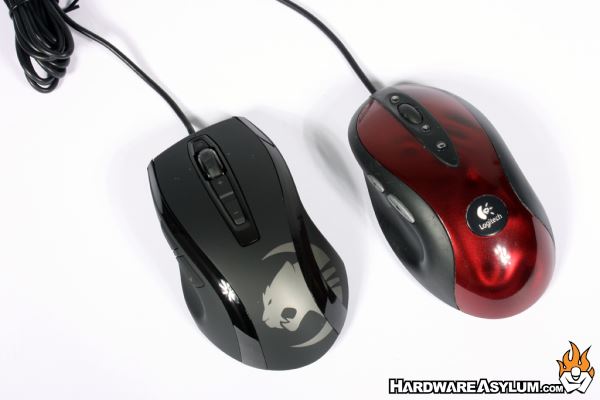 Most readers are aware I am a big wireless mouse fan at heart with a preference for the Gigabyte Aivia as my current flavor of choice, however the shape and wired interface lead me back to a mouse many call the best for the money; the MX510. In comparison the Kone[+] is a bit wider with more of an accented hourglass shape. I found the extra area provided a more stable rest while in the palm grip and overall less wrist drag as I am prone to do over long gaming sessions. Oh and yes, the button placement blows the MX out of the water.