Roccat Isku and Kone Gaming Keyboard and Mouse Review
Roccat Isku and Kone Gaming Keyboard and Mouse Review
Author:

Darren McCain
Published:
Wednesday, June 27, 2012

Keyboard Layout
When powering up Isku for the first time you are greeted by a blast of vivid blue accent lighting in a color range that will not strain your eyes. There are 6 different levels of lighting including the option to turn the lighting completely off. Sadly the color selection is limited to this single color of lighting with none of the options to control lighting effects we will see in the Kone[+]. The half-height keys appear to be cut rather thickly based on the depth of the lighting effect. I did notice a side effect of the deeper cut lettering was that the top functions on the number keys tend to disappear partially at arm's length. This was also an advantage as the deeper cuts tend to prevent the lighting from glaring in my eyes when playing in a darkened room even at the top level.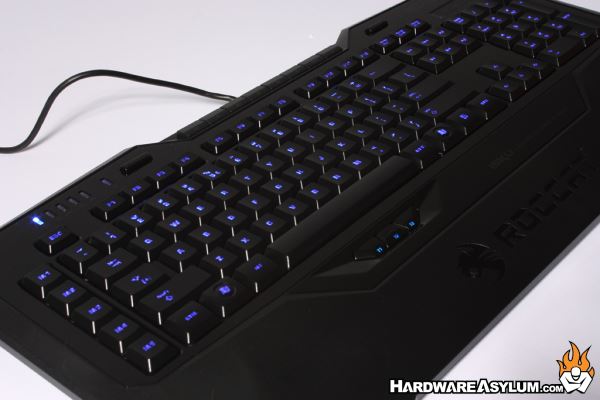 Probably the first things you notice about the Isku are the five macro keys on the left side. Each of these can be programmed from the software or on the fly. With macro looping you can repeat settings up to 255 times. One of the more interesting features of the macro system is the verbal feedback. The keyboard driver will verbally walk you through the recording of a macro allowing for instant feedback that may not even require you to look away from your game.

Next to the macro keys you will find the shift lock key has been replaced by the Easy-Shift[+] key. The Easy-Shift[+] key is the hub of nearly all of the versatility built into Isku and affects three different zones of customizable keys. This key works like a shift key for all of your programmable keys effectively doubling the amount of customizable keys to 36.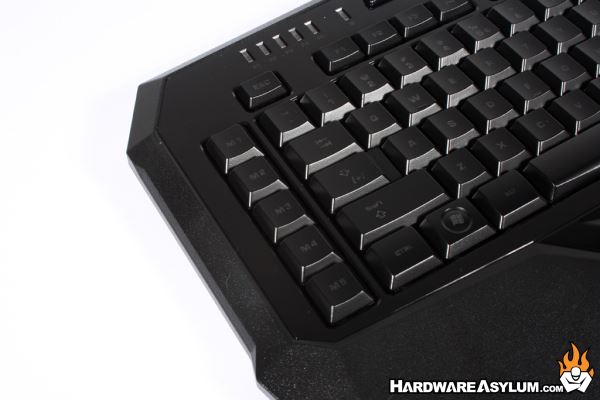 Across the top left edge there are visual indicators for five separate profiles. Profiles can be manually selected or preprogrammed to launch with your favorite games.