Roccat Isku and Kone Gaming Keyboard and Mouse Review
Roccat Isku and Kone Gaming Keyboard and Mouse Review
Author:

Darren McCain
Published:
Wednesday, June 27, 2012

Mouse Software Cont.
Things get really fun once you start playing with the Color Control tab. The two Color Pipes can be programmed by changing the behavior of the onboard LED lighting system. The Kone[+] uses a precise control over these colors to expand the color pallet by varying the intensity of each LED. This same control allows you to adjust the light effect and the color flow effect. Of course you can simply turn things off if you find the light distracting globally or by profile.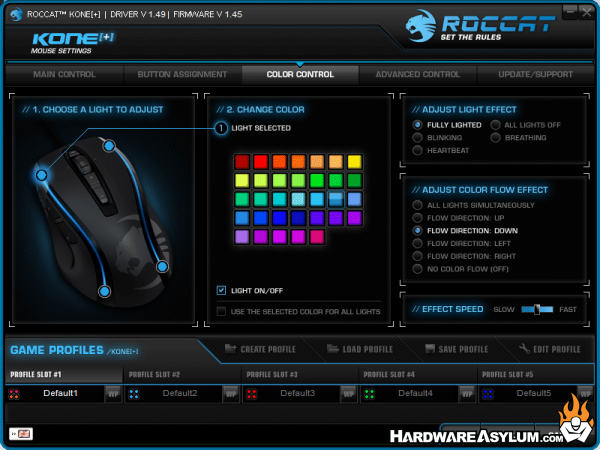 This effect can be individually assigned to eth profiles as well allowing you to know at a glance what profile you are currently in. Even the effect speed can be tweaked. After messing around with all of the settings I settled for a slow breathing pulse across the entire color pallet. The shift is slow enough I don't notice it but every time I look at the Kone[+] it's a different color.

The four dots you see on each profile slot are showing the lighting effect in miniature. The animation is pretty cool as it shows you exactly what you are getting from the selected effect without having to mess with the profiles manually.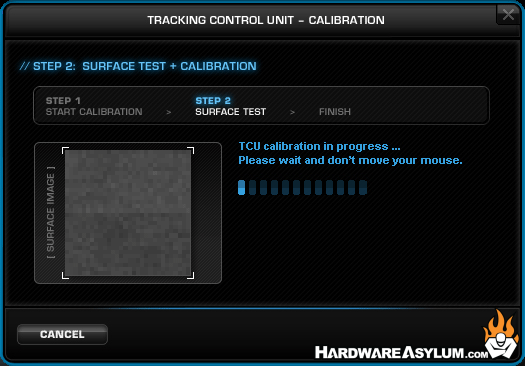 Advanced Control provides access to all of the actual Mouse settings you would expect in a driver and then some. Sensitivity can be adjusted by axis. Distance and Tracking Control (TDCU) and can be adjusted individually. The polling rate is adjustable from the default 1000 Hz. Sound feedback can be configured or turned off. Pointer speed and acceleration are available as well.

By default the ROCCAT driver is set to TCU and Distance Control Off. This is an odd decision that is remedied by enabling the TDCU and allowing the real-time calibration to run. In just seconds the Kone[+] configures the laser tracking for your mouse surface. I found the mouse works on my major surfaces pretty well right out of the box but the added calibration should allow for individual mousing surfaces and preferences.

The Update/Support Tab functions exactly like we described for the Isku driver suite.