EVGA Z490 FTW WiFi Motherboard Review
EVGA Z490 FTW WiFi Motherboard Review
Author:

Dennis Garcia
Published:
Friday, June 26, 2020

Conclusion
Early in this review I mentioned how I felt the EVGA Z490 FTW WiFi was a bit of a hodgepodge. That wasn't meant to be a negative but rather addressing just how strange this motherboard really is. Overall it is a very nice looking board and yet is extremely plain. If you were to see it on the shelf next to and ASUS or MSI board it would look out of place as it lacks any design elements. Of course that is just visually looking at the motherboard so, lets dive deeper.
EVGA has included several mainstream features on the Z490 FTW including an onboard RGB controller along with a custom audio and a headphone tuning utility called EVGA NU Audio. This utility will change the audio characteristics based on preset values along with an option to build a custom profile. If you are one to use headphones over desktop audio this is an excellent option for you. I tried it out against gaming and music and can honestly say I was impressed with the effects but felt it acted more like an EQ overlay than audio enhancer.
The previous EVGA Z390 FTW featured an onboard RGB controller allowing you to control lighting strips from the motherboard. The new Z490 FTW WiFi comes with an upgraded controller supporting both RGB and ARGB from a pair of headers located at the top of the board. You will also find a small set of RGB lights under the MCP cooler. I'm no expert on RGB lighting but the lights are forgettable especially when they are eventually covered by whatever video card you happen to install.
On the positive the UEFI layout is quite good and displays exactly what you need to see. This is an important feature given that many manufacturers tend to overcomplicate the interface by trying to show "everything" or do the opposite and hide everything in a list of complex menus. The EVGA UEFI is very straight forward showing you the current state of your system while giving you appropriate menus to make adjustments.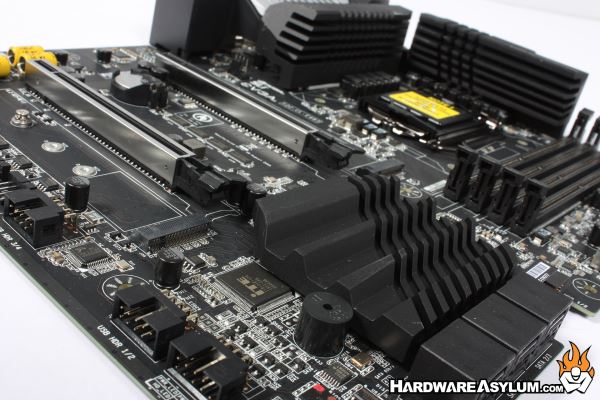 When it comes to overclocking I found the Z490 FTW to be very responsive both to manual adjustments and the automatic ones. For this review I ended up using the OC Robot due to lackluster overclocking headroom in the 10th generation Core i9.
Previous experience has told me that 5.25Ghz was the 24/7 max for this proc and I'm glad that the OC Robot picked up on that.
Overall I am left underwhelmed by the EVGA Z490 FTW which is a first for me. Normally EVGA boards are quite good and if you exclude some of the early Classified motherboards their track record has been promising from the beginning.
The reasons for my conclusion are pretty straight forward. The RGB implementation is timid at best, the way I see it, "go big or don't bother". RGB is already a love or hate relationship so why bother beating around the bush. From a visual design standpoint everything on the board is functional and yet lacks cohesion. There are only three expansion slots on this board and only two fully usable M.2 slots. Heck, even the slats in the I/O cover, VRM heatink and chipset cooler go in different directions.
Personally I know that EVGA plays differently than many of the larger motherboard makers and their approach to motherboard design is still a little old school. That could be buget related or just a reaction to the market. Thing is old school still works provided that the product does what it says or does something else extremely well.
Good Things
Finally RGB!
Black and Silver Color Scheme
Excellent UEFI Menus
Custom Audio System
Drivers on Flash Drive
Some Overclocking Support
Onboard Video
Onboard WiFi
Bad Things
Flexi PCB
Stiff sockets
Bottom internal connections conflict with some case designs
Only three expansion slots
Design not unified
Where is the RGB on this motherboard?