EVGA Z490 FTW WiFi Motherboard Review
EVGA Z490 FTW WiFi Motherboard Review
Author:

Dennis Garcia
Published:
Friday, June 26, 2020

Onboard and Included Features
The I/O panel is rather self explanatory and quite sparse for any motherboard. Starting at the left you will find a CMOS reset button. Next to that you'll find ports for onboard HDMI and Display Port video. Followed by a combo PS/2 keyboard and mouse port along with two USB ports. The red USBs are 3.2 Gen 2 while the blue USB are 3.1 Gen 1. You will find a single USB Type-C connection supporting Gen 2x2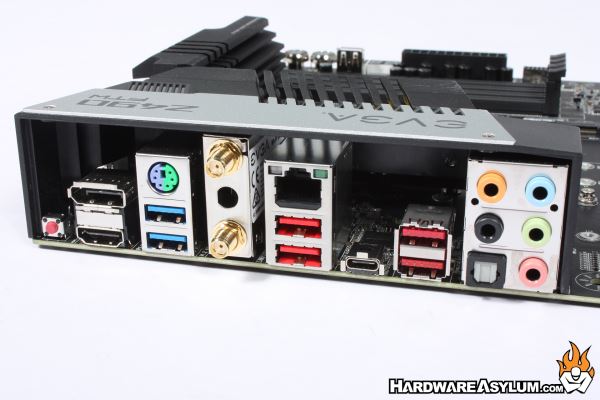 Networking is handled by the Intel i219V controller and a single onboard Wifi module.
Funny story, back in the day EVGA ditched the PS/2 port saying it was legacy and that nobody needed it. As a result I had to upgrade my test bench to use USB hardware allowing me to move PS/2 keyboard to the LN2 lab. As it would seem that PS/2 ports are making a comeback and why not? They cost nothing to add and provide a little backwards compatibility for overclockers and hardcore IBM keyboard enthusiasts.
Onboard Audio
The audio solution found on the Z490 FTW is a new design featuring a Realtek ALC1220 HD 7.1 controller and matched with the EVGA NU Audio application. Like most of the high-end gaming motherboards you'll find some specialized audio capacitors near the controller.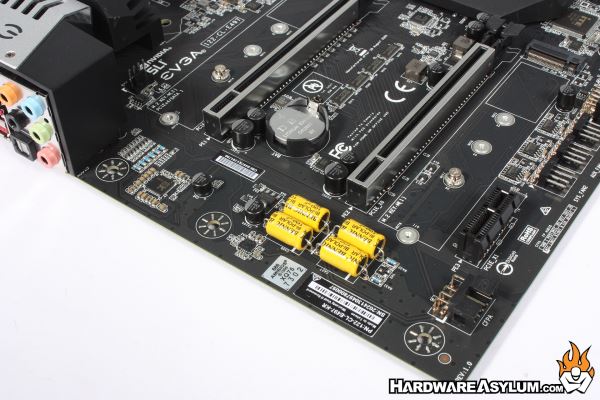 Sadly gone are the days of separated audio sections on the motherboard. It was a nice fad and yet really quite pointless.
Included Goodies
We have come to expect more goodies from our high-end motherboards to help justify the additional cost. Sometimes this works out for everyone and other times it creates issues.
When it comes to documentation you will get a quick start guide. People claim they don't read manuals anymore so it appears that EVGA has stopped including a paper manual. You can visit EVGA.com and download a PDF copy or find a copy on the driver disk. In place of the standard driver CD you will find an EVGA branded flash drive!?!. I'm really excited about the flash drive option but deep down it just seems wrong and super easy to lose.
An EVGA branded I/O shield is also included and for once you will NOT get any SLI connector for 900 Series video cards and lower. Given that newer NVIDIA cards require a High Bandwidth SLI or NVLink bridge it makes sense to retire the older SLI bridge.
On a related note EVGA has high quality SLI bridges available on their website so be sure to check those out.