EVGA Z490 FTW WiFi Motherboard Review
EVGA Z490 FTW WiFi Motherboard Review
Author:

Dennis Garcia
Published:
Friday, June 26, 2020

Introduction
Motherboards are an interesting product. At their lowest level they are designed to connect all the components of your PC and if it does that the product should be considered successful and yet, nobody wants to buy a plain motherboard. To help add value to an otherwise functional component of your modern personal computer the motherboard maker will start adding features. Some specialize in overclocking while others might favor watercooling or include gaming friendly options to help you frag better.
In this review we will be looking at the new EVGA Z490 FTW motherboard. Visually this board is almost a direct copy of the EVGA Z390 FTW. There are a few minor tweaks and an effort to include a few overclocking features found on the Dark edition.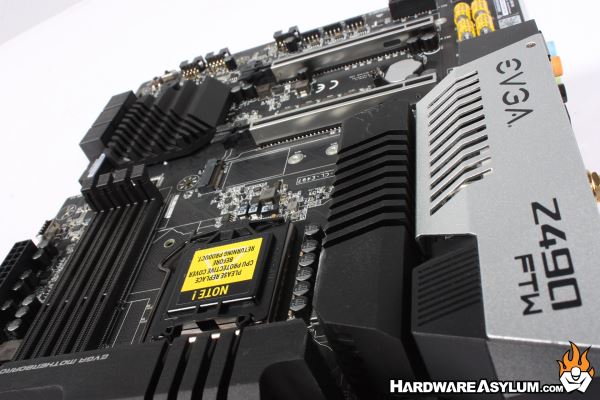 Specifications
Chipset – Intel Z490
SLI – NVIDIA SLI Ready
SATA – 4 Native SATA 6.0Gbps Ports / 2 ASMedia SATA 6.0Gbps Ports
RAID 0, 1, 5, 10, JBOD
USB – 5x USB 2.0 (1 SPI to USB port, 4 from Internal Headers)
Memory Support – 4 DIMM Dual-Channel DDR4 4400MHz+ (up to 128GB)
Capacitors – 100% Solid State
Ethernet – Intel i219V Gigabit NIC
Audio – Realtek ALC1220 7.1 Channel HD Audio + SV3H615
Display Outputs – DP 1.2, HDMI 1.4
Fan Headers – 8 (2 CPU PWM, 6 PWM/DC)
PCB – 6 Layers
PCI-E Slot Arrangement – 2x16, 1x1
NVMe Support – Yes (PCIe + SATA)
Form Factor
ATX Form Factor
Length: 12in - 305mm
Width: 9.6in - 244mm
As I had mentioned before the EVGA Z490 FTW WiFi is a basic copy of the Z390 FTW with a few features added. I'm going to go out on a limb here and say that this motherboard might be a bit of a hodgepodge. The formula for most projects is to take want works and start to make some tweaks. Thing is if those tweaks are not done logically or you mess with the previous formula things can go sideways.
Let's take a look.