Aorus Z390 Xtreme Waterforce Motherboard Review
Aorus Z390 Xtreme Waterforce Motherboard Review
Author:

Dennis Garcia
Published:
Friday, March 08, 2019

Benchmarks - Overclocked
As with all of our reviews, we pit the default speed system against the overclocked one in a head-to-head byte match. The effective overclock for these tests is 4.9Ghz @ 49x multiplier. To attain this overclock I simply pressed the OC button on the motherboard and set the XMP profile in the UEFI.
I did confirm that all the cores were locked to the same mulitpler and really represents the easiest performance boost you can get on any motherboard. The OC button did raise the vCore up to 1.3V.
In terms of manual overclocking I was able to hit 5.1Ghz without too much trouble and the magical 5Ghz was a cake walk. The difference here is that to hit 5Ghz+ I needed to tweak things in the BIOS whereas by pressing the OC button I could get the same basic performance without the hassle.
Per most Gigabyte motherboards they are a little "fast and loose" when it comes to CPU voltage. I know my processor will run 5Ghz with only a minor bump in voltage and with the BCLK voltage adjustments enabled I was seeing spikes of 1.45v on the core! This can help ensure that an overclock is stable on lower quality CPUs however, for me, this just equated to excess heat. This was one of the other reasons for sticking with 4.9Ghz and sending it.
CPUz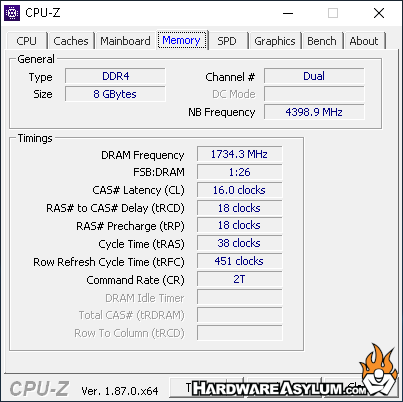 SiSoft Sandra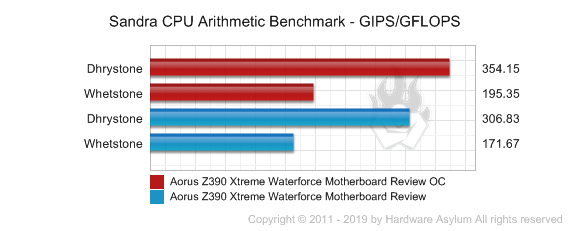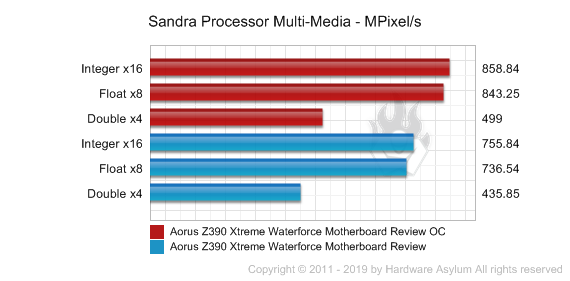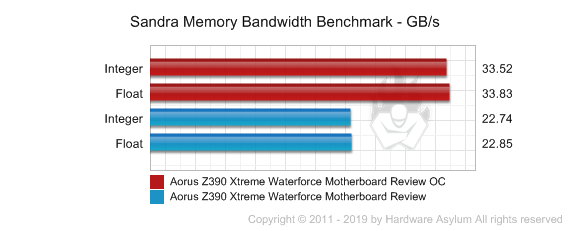 Unreal Tournament 3

Call of Duty 4 Modern Warfare

Futuremark PCMark 10

Overclocking Conclusion
To maximize system performance you have a couple options. The first is straight multiplier overclocking after that you can extract a little more by tuning the BCLK and memory settings. This increases overall memory bandwidth and can make things faster due to how the multipliers work. Of course with memory you can "buy" performance by simply buying faster modules. This gives you faster out of box performance and considerably more headroom if you choose to experiment with BLCK overclocking and tuning the memory controller.
For most users I would fully expect a 5Ghz overclock with the Core i7 8700K. You can run that speed without any voltage adjustments and it doesn't really run all that warm either. Running an overclocked CPU on the Aorus Z390 Xtreme Waterforce all but removes CPU temp from the equation provided you size the waterloop properly.