Aorus Z390 Xtreme Waterforce Motherboard Review
Aorus Z390 Xtreme Waterforce Motherboard Review
Author:

Dennis Garcia
Published:
Friday, March 08, 2019

Aorus All-In-One Monoblock
One of the defining features of the Z390 Xtreme Waterforce is the full coverage monoblock that cools the entire system and really is a marvel to behold.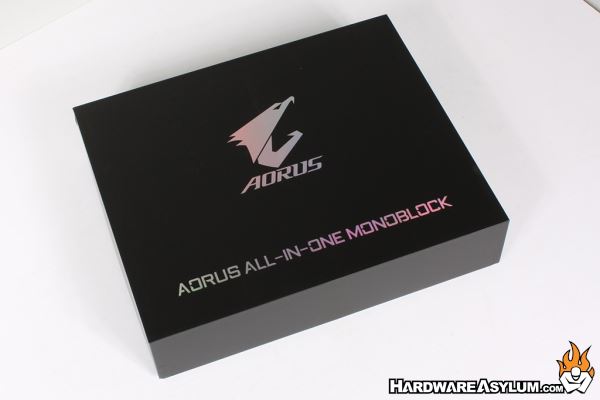 The block features a water inlet and outlet at the top of the monoblock that sit aside a very large Aorus eagle logo.
Given that the block is designed to cool everything on the motherboard it features a large variety of thermal pads at the VRM, Chipset and M.2 drives. These points make direct contact with components on the motherboard and some care needs to be taken when installing the block.
The copper strip that you'll see around the block is a leak detection strip and will trigger a warning when it detects a fluid leak. For novice watercooling enthusiasts "leaks" are their biggest fear and this ensures they will know when it happens.
Installing the monoblock is really straight forward but does require some extra hardware including a backplate and a number of screws. Each bag is labeled with screws for a certain zone of the monoblock with really detailed instructions in the manual.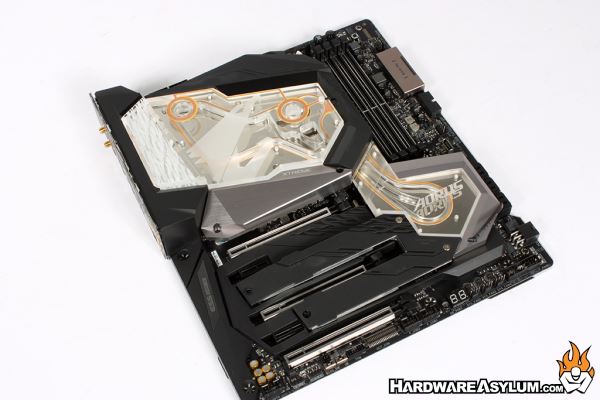 When installed the board will look something like what is shown here. (hint: the block isn't really installed in this photo, just placed in the proper location)