Aorus Z390 Xtreme Waterforce Motherboard Review
Aorus Z390 Xtreme Waterforce Motherboard Review
Author:

Dennis Garcia
Published:
Friday, March 08, 2019

Conclusion
Wow, what a wild ride. I applaud those who hit every page and stuck with me to the end. Speaking of the end this motherboard might be one of the greats in the enthusiast PC world. While that is a bold statement I think it can easily be defended.
Normally, during the conclusion I simply rehash some of the highlights and call it good however, if you are reading this you already know what you're in for and want a little piece of mind that it will be the right decision.
Yes
If you are in the market for a LGA 1151 Z390 motherboard the Aorus Z390 Xtreme Waterforce should be on your short list. Of course there are a few important factors to consider.
Will you have a DIY watercooling loop in your build?
Do you plan to do any sort of Xtreme overclocking (LN2/DICE/Phase)?
Will your case support an extended width motherboard?
The first question is obvious. The Aorus Z390 Xtreme Waterforce features an AIO watercooled monoblock which demands some sort of circulating water to operate correctly. There is no option for using this motherboard without the block since it also cools everything including the VRM and chipset.
Now, I know you can run this board without coolers on those components. Thing is I'm of the opinion that if the board maker provides a heatsink for a component you should use that heatsink.
The second point is more of a distinction between getting the Aorus Z390 Xtreme Waterforce over the standard Z390 Xtreme. If you planned to do any sort of extreme overclocking I would suggest against the Waterforce edition and go directly to the regular Xtreme. Xtreme comes with VRM and Chipset heatsinks giving you more options for cooling the CPU. Besides running chilled water eventually will drop condensation on the PCB that is not easily prevented or cleaned up.
The final point is one every system builder should recognize. The Z390 Xtreme measures 10.5 inches wide and will simply not fit into smaller cases. Besides you'll want extra room for your DIY water loop and RGB lighting.
Performance wise the Xtreme Waterforce did not disappoint and ran as expected at default speed and responded well to overclocking. I was never worried about the system overheating and was actually more confident pushing voltage into my 8700k knowing that the mono block could handle the heat.
One of my biggest concerns was with the RGB Fusion lighting. As I had mentioned earlier when the Waterforce boots up there is a default color pattern that flows over the entire motherboard. It is actually quite nice and not selectable from the RGB Fusion software. When using the software I found it interesting that in the advanced settings some patterns were not available for certain zones. In other instances I discovered that patterns didn't sync across all of the RGB lighted devices, memory being one of them. I suspect there is some sort of hardware limitation but do hope it can be addressed in the future.
On the positive I was able to find patterns that worked across all of my devices including RGB lighted fans, addressable RGB strips, memory and motherboard. They just needed to be selected from the advanced menu.
Overall I really enjoyed using the Aorus Z390 Xtreme Waterforce. It tested well, has a nice layout and a great set of features. The waterblock is a wonderful surprise and really pushes this product beyond what a typical enthusiast would expect. Stability excellent and overclocking was exciting and uneventful (As it should be). I also like how many of the SOC features have made it into the Xtreme motherboards. While I wouldn't say the board is LN2 ready (unlike the SOC boards) it does have all the controls available and with the help of OC-Touch can really unlock what the board can do and lives up to the Xtreme name.
Good Things
Discrete RGB LED
Support for Digital and Anlog RGB Strips
Black and Silver Color Scheme
Excellent UEFI Menus
Excellent Audio System
Included HB SLI Bridge
Wireless Onboard
Excellent Overclocking
Full Coverage AIO Waterblock
Several RGB Lighting Zones
Included RGB Fan Controller
Bad Things
You'll see when you go to buy one
Hardware Asylum Rating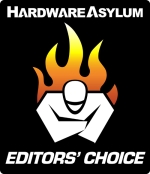 Aorus Z390 Xtreme Waterforce Motherboard Review
Editors' Choice
https://www.hardwareasylum.com