Aorus Z390 Xtreme Waterforce Motherboard Review
Aorus Z390 Xtreme Waterforce Motherboard Review
Author:

Dennis Garcia
Published:
Friday, March 08, 2019

Board Layout and Features
Aorus motherboards follow a common black on black color scheme. This is a pretty boring on the surface but can quickly be lit up with the various RGB Lighting effects (Party Mode). You will find several details scattered about including the lack of heatsinks on basically, everything. Given that this is a watercooled motherboard you MUST install the waterblocks after the CPU is installed.
For now you'll get to see the Z390 Xtreme in all of its naked glory.
Flipping the motherboard over can tell us a lot about how it is constructed including where some of the major chips are located, assuming you can see the actual PCB. The back of the Xtreme Waterforce is covered by a decorative backplate similar to what you would find on a modern graphics card. Normally these plates are designed to reinforce the PCB and dissipate heat. The one found on the Z390 Xtreme does just that and integrates well with the RGB LED edge lighting.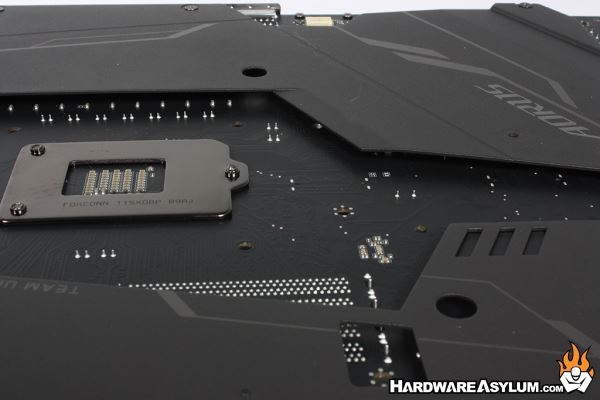 The plate sits just far enough away from the PCB to avoid contacting any solder connections and close enough to clear the motherboard tray when using standard length standoffs.
Every mfg has a go to power design that works and they tend to stick with it. The VRM on the Z390 Xtreme Waterforce is a 16 Phase IR Digital VRM Solution with PowIRstage mosfets. These sit on an 8 layer PCB with the normal Gigabyte 2x copper PCB.
CPU power is handled by two 8-pin CPU power connectors located at the top of the motherboard. They are unobstructed both with and without the AIO waterblock installed.