Aorus Z390 Xtreme Waterforce Motherboard Review
Aorus Z390 Xtreme Waterforce Motherboard Review
Author:

Dennis Garcia
Published:
Friday, March 08, 2019

AORUS and Gigabyte Accessories
Aorus RGB Fan Commander
This little device occupies one of the larger boxes in the Aorus Z390 Xtreme Waterforce package. Inside you'll find the fan commander and all of the cables needed to monitor system temps, control RGB fans and sync everything with the motherboard.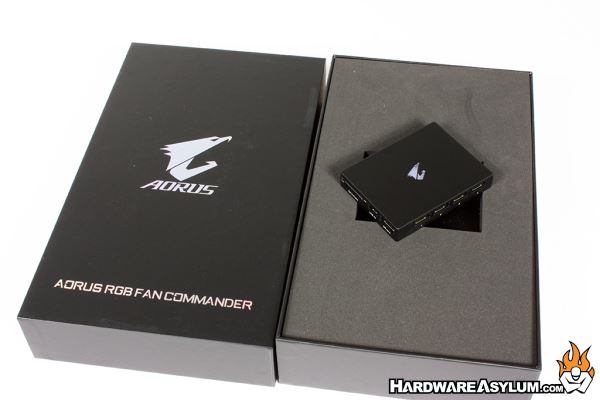 Gigabyte OC Touch
OC Touch is a great overclocking device that allows you to remotely control the motherboard at the hardware level. The two Plus and Minus buttons control the CPU Multiplier and BCLK frequency while the GEAR button controls the BCLK stepping. You'll find switches to control BIOS, Video and trigger frequency which basically drops the CPU down to the lowest multiplier.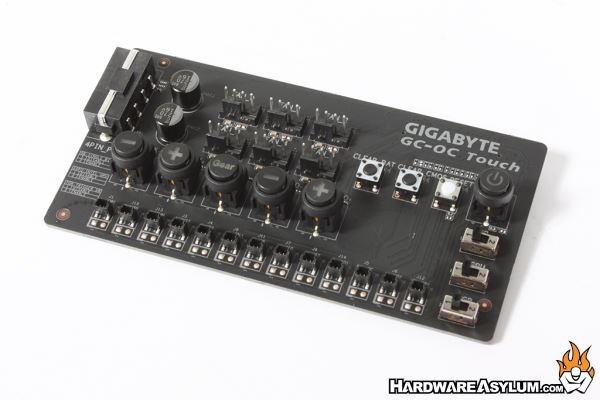 Voltage test points are located across the bottom and you get six fan headers for cooling anything from yourself to the Nitrogen vapor that tends to promote frost growth on your CPU container.
Of course while you can adjust things with the OC-Touch panel it is limited to frequency meaning that voltages need to be set using the BIOS or EZTune software. Once set the voltage you'll need you can change CPU frequencies at any time, including during a benchmark run to further enhance your scores.
Sadly, given that the Z390 Xtreme Waterforce is watercooled there are limited opportunities to use the OC-Touch panel due to condensation issues on the copper side of the waterblock.
Speaking of, let's check out the waterblock!