MSI Creator TRX40 Motherboard Review
MSI Creator TRX40 Motherboard Review
Author:

Dennis Garcia
Published:
Tuesday, December 24, 2019

Board Layout and Features Continued
One of the great things about the HEDT segment is the overabundance of memory bandwidth. Quad channel memory comes standard on the AMD Ryzen Threadripper and the MSI TRX40 Creator supports standard speed DDR4 modules up to 3200Mhz with overclocking support up to 4666 using the A-XMP overclocking profiles. A total of 256GB is addressable across 8 onboard DIMM slots.
The Creator isn't a motherboard designed for Overclocking but does come with a few benchtop controls. At the bottom you'll find a Debug LED, Slow mode jumper, power and reset buttons. There is reference to Game Boost in the BIOS but the onboard switches appear to be absent.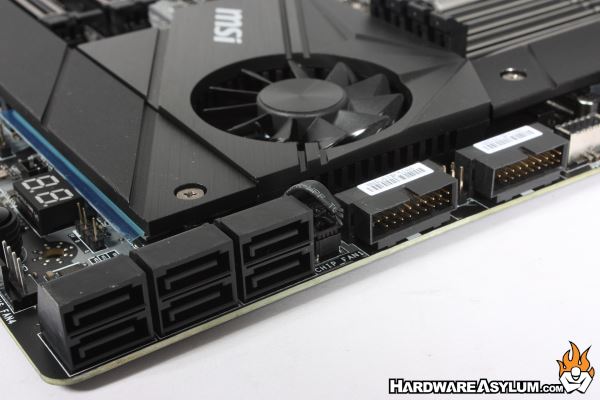 Internal SATA connections number six and follow the SATA6 connection standard. Next to the SATA connectors you'll find two standard USB 3.0 header mounted 90 degrees and above that is a single USB 3.1 Gen 2 Type C connector.
The TRX40 chipset comes with 88 PCI Express 4.0 lanes with 8x being dedicated to communication with the Threadripper CPU. The rest are allocated to support the bulk of connectivity and storage. You will find a total of three M.2 slots on this motherboard. Ironically the one closest to the CPU is controlled by the PCH while the two below the PCI Express slots use bandwidth from the CPU.
MSI M.2 Xpander AERO
If you find yourself needing even more storage space MSI includes their AERO M.2 Gen4 Xpander accessory. This expansion card supports 4x NVMe SSDs up to PCI Express Gen4 and will install into an available 16x video card slot. MSI suggests PCI_E3 which we will address on the Mulit GPU Index page.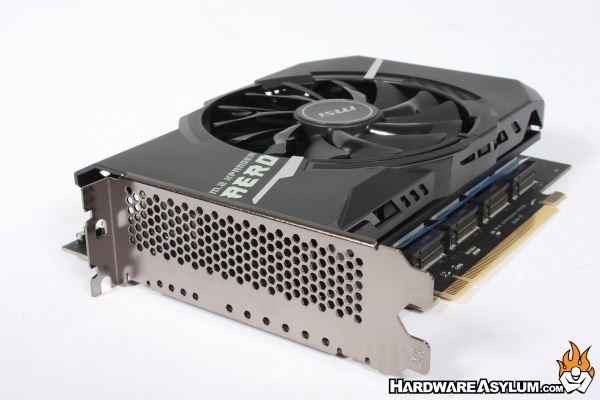 Installing M.2 drives into the Xpander is identical to those on the main motherboard. Simply remove the cooler, install the drive and reinstall the cooler.