Aorus X299X Xtreme Waterforce Motherboard Review
Aorus X299X Xtreme Waterforce Motherboard Review
Author:

Dennis Garcia
Published:
Friday, March 06, 2020

Conclusion
Once again I am floored by how good this motherboard is. I applaud those who hit every page and stuck with me to the end. Hands down this is one of the great motherboards in the enthusiast PC world and while that might be a bold statement I think it can easily be defended.
Normally, during the conclusion I simply rehash some of the highlights and call it good however, if you are reading this you already know what you're in for and want a little piece of mind that it will be the right decision.
Yes
If you are in the market for a LGA 2066 X299 motherboard the Aorus X299X Xtreme Waterforce should be on your short list. Of course there are a few important factors to consider.
Will you have a DIY watercooling loop in your build?
Do you plan to do any sort of Xtreme overclocking (LN2/DICE/Phase)?
Will your case support an extended width motherboard?
The first question is obvious. The Aorus X299X Xtreme Waterforce features an AIO watercooled monoblock which demands some sort of circulating water to operate correctly. There is no option for using this motherboard without the block since it also cools everything including the VRM and chipset so, you'll be expected to setup some sort of pump res system with a radiator to keep things cool.
For this review I use an XSPC pump res combo with a D5 pump however you could use something smaller if your build requires it.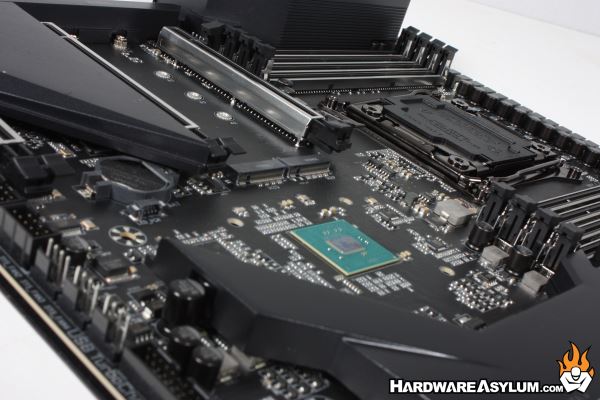 The second point is more of a distinction between getting the Aorus X299X Xtreme Waterforce over the standard X299. If you planned to do any sort of extreme overclocking I would suggest against the Waterforce edition and go directly for one of other X299 motherboards as they come with VRM and Chipset heatsinks giving you more options for cooling the CPU.
The final point is one every system builder should recognize. This motherboard is big measuring in at 10.5 inches wide and will simply not fit into smaller cases. Besides you'll want extra room for your DIY water loop and RGB lighting. Most of all you will want a strong case, this motherboard with the monoblock is really heavy and once you add PSU, Watercooling gear and a video card any potmetal cheap chassis is likely going to crumble under the weight.
Performance wise the Xtreme Waterforce did not disappoint. I was a little suprised at the Sisoft Sandra results as they were quite low. I cannot account for the reason but it could either hardware optimization for Intel 10-Series or maybe my 7900X is about to burn up.
Even though this motherboard is watercooled there are thermal limits to the hardware. For instance I discovered that 4.54Ghz was the highest I could push my Core i9 7900X without having the system shut down. I would fully expect the Intel 10-Series CPUs to make better use of the Xtreme Waterforce monoblock but will likely have a similar thermal limit.
When it comes to onboard accessories the X299X Xtreme Waterforce has everything you would expect. There are plenty of fan headers, both analog and digital RGB headers, the waterblock and motherboard are both RGB enabled and sync perfectly using the RGB Fusion software. For audio enthusiasts the ESS Saber sounded amazing and the 5.1 output was one of the best I have ever tested.
I did find the lack of onboard overclocking controls to be a little disappointing however, I don't see many people buying this motherboard to be into the whole "enthusiast overclocking scene"
There were a couple things that caught me by surprise. The first was the weight of the monoblock! I mentioned it before and it is worth saying again. The cooler his heavy and made assembling the system a little awkward and took a few tries to get the monoblock RGB headers installed.
I am still a little torn between the onboard M.2 drive placement. The two drives are located between the PCI Express slots #1 and #4 which is great because that allows them to be watercooled with the monoblock. However, because of this you cannot swap drives without removing the monoblock completely which can damage the thermal pads and you risk damaging the monoblock RGB plugs. Is that a deal breaker? I'm not sure.
Overall I really enjoyed using the Aorus X299X Xtreme Waterforce. It tested well, has a nice layout and a great set of features. The waterblock is a wonderful surprise and while it might not be as stylish as the Z390 edition it does push this product beyond what a typical enthusiast would expect.
Good Things
Discrete RGB LED
Support for Digital and Anlog RGB Strips
Black and Silver Color Scheme
Excellent UEFI Menus
Excellent Audio System
Wireless Onboard
Excellent Overclocking
Full Coverage AIO Waterblock
Several RGB Lighting Zones
Included RGB Fan Controller
Included AIC Adaptor for NVMe Awesome
Bad Things
You'll see when you go to buy one
Hardware Asylum Rating