Aorus X299X Xtreme Waterforce Motherboard Review
Aorus X299X Xtreme Waterforce Motherboard Review
Author:

Dennis Garcia
Published:
Friday, March 06, 2020

Introduction
Last year was a very exciting time for hardware enthusiasts especially those who are fans of watercooling. I'm not talking about those cheap AIO watercoolers but the proper DIY pump res radiator cooling works of art that you have to assemble and maintain with care. While most DIY setups are comprised of a single waterblock there are some enthusiasts who things a little further. What was a single CPU block system is now mulitple GPUs, VRM and memory all tied together. This can be a costly process but really pays off when don't correctly.
What if you could attain such watercooling greatness without all the hassle?
Well that is what hardware enthusiasts got when the Aorus Z390 Waterforce Xtreme launched last year featuring a purpose built full coverage waterblock that cooled everything on the motherboard.
During Computex 2019 I was able to see a prototype design for the X299 Waterforce Xtreme that would be launched as part of the Intel Series 10 processor launch and X299 refresh. At the time the design was not final but with the success of the Z390 Waterforce it was clear that Gigabyte was committed to making it happen.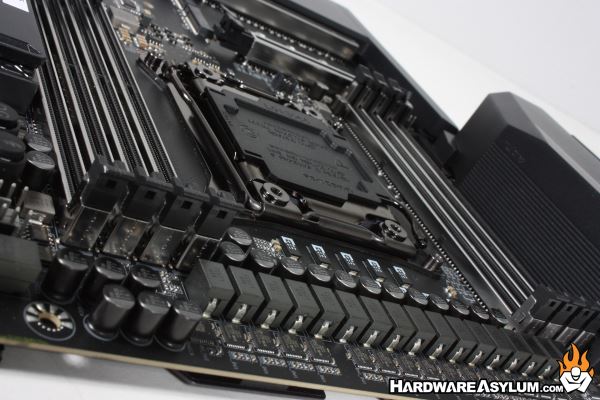 In this review we will be looking at a product that once again checks all the boxes, smashes the bells and blows all the whistles. This is a product built on a foundation of overclocking that spans over decades of experience and features one of the highest quality onboard sound systems I have ever tested. On top of that this board comes with all of the modern custom PC trends including an eye-catching design, multi zone and expandable RGB LEDs and a full coverage AIO (All In One) waterblock.
The Aorus X299X Xtreme Waterforce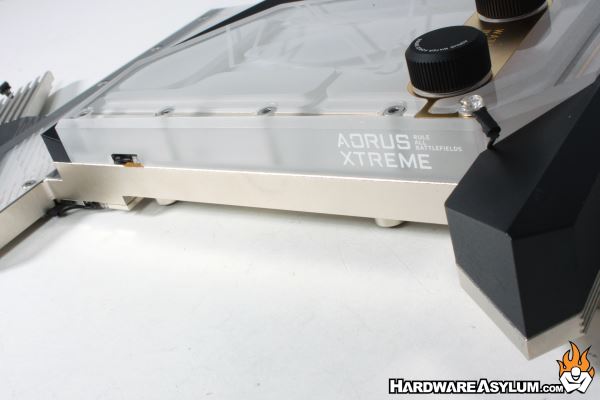 Aorus is a standalone brand supported by Gigabyte serving as their high-end gaming product line. It has recently expanded rapidly to encompass everything related to gaming from headsets and keyboards to memory, graphics cards, motherboards, power supplies, and almost everything in-between. Additionally the Aorus Xtreme motherboards have also consumed many of the enthusiast oriented features found on the older SOC (Super OverClock) motherboards, giving them the ability to go on some amazing overclocking adventures without any modifications.
Specifications
CPU: Support for Intel Core i7-7800X and above X series processors/Intel Core i9 X series processors in the LGA2066 package (Please refer "CPU Support List" for more information.)
Chipset: Intel X299 Express Chipset
Memory:
Intel Core X series 48-lane processors: 8 x DDR4 DIMM sockets supporting up to 256 GB (32 GB single DIMM capacity) of system memory / Support for DDR4 4333(O.C.) / 4266(O.C.) / 4133(O.C.) / 4000(O.C.) / 3866(O.C.) / 3800(O.C.) / 3733(O.C.) / 3666(O.C.) / 3600(O.C.) / 3466(O.C.) / 3400(O.C.) / 3333(O.C.) / 3300(O.C.) / 3200(O.C.) / 3000(O.C.) / 2933/2666/2400/2133 MHz memory modules
Intel Core X series 44-lane/28-lane processors: 8 x DDR4 DIMM sockets supporting up to 128 GB (16 GB single DIMM capacity) of system memory / Support for DDR4 4200(O.C.) / 4133(O.C.) / 4000(O.C.) / 3866(O.C.) / 3800(O.C.) / 3733(O.C.) / 3666(O.C.) / 3600(O.C.) / 3466(O.C.) / 3400(O.C.) / 3333(O.C.) / 3300(O.C.) / 3200(O.C.) / 3000(O.C.) / 2666/2400/2133 MHz memory modules
(Please refer "Memory Support List" for more information.)
Onboard Graphics: Intel Thunderbolt 3 Controller: Maximum shared memory of 1 GB
Audio: 2 x Realtek ALC1220-VB codecs / 2 x ESS SABRE9218 DAC chips High Definition Audio 2/4/5.1/7.1-channel Support for S/PDIF Out
LAN: 1 x Aquantia 10GbE LAN chip (10 Gbit/5 Gbit/2.5 Gbit/1 Gbit/100 Mbit) (LAN1) / 1 x Intel GbE LAN chip (10/100/1000 Mbit) (LAN2)
Wireless Communication module: Wi-Fi 802.11a/b/g/n/ac/ax, supporting 2.4/5 GHz Dual-Band / BLUETOOTH 5.0
Multi-Graphics Technology: Support for NVIDIA Quad-GPU SLI and 2-Way NVIDIA SLI technologies / Support for AMD Quad-GPU CrossFire and 2-Way AMD CrossFire technologies
Storage Interface: 2 x M.2 connectors / 8 x SATA 6Gb/s connectors / Intel Optane Memory Ready
Form Factor: XL-ATX Form Factor; 32.5cm x 27.5cm
Features
Supports Intel Core X-series Processor Family
Quad Channel Non-ECC Unbuffered DDR4, 8 DIMMs
Intel Optane Memory Ready
16 Phases IR Digital VRM Solution with 70A Power Stage
World's First AORUS All-In-One Monoblock for CPU, VRM, SSD and PCH
Intel Thunderbolt 3 Onboard
Onboard Intel WiFi 6 802.11ax 2T2R & BT 5 with 2X AORUS Antenna
130dB SNR AMP-UP Audio with High-End ESS SABRE 9218 DAC, ALC1220 and WIMA Audio Capacitors on Front and Rear Audio Output
AQUANTIA 10GbE BASE-T LAN and Intel Gigabit LAN with cFosSpeed
Exclusive AORUS Gen4 AIC Adaptor for Extra 4x NVMe PCIe 3.0 x4 M.2
Exclusive RGB FAN COMMANDER for Professional Casemodders
Watercooled Dual Ultra-Fast NVMe PCIe 3.0 x4 M.2
USB TurboCharger for Mobile Device Fast Charge Support
RGB FUSION 2.0 with Multi-Zone Addressable LED Light Show Design, support Addressable LED & RGB LED Strips
Smart Fan 5 Features Multiple Temperature Sensors , Hybrid Fan Headers with FAN STOP and Noise Detection
2 x Front USB 3.2 Gen 2 Type-C Header
Q-Flash Plus Update BIOS without Installing CPU, Memory and Graphics card