Aorus X299X Xtreme Waterforce Motherboard Review
Aorus X299X Xtreme Waterforce Motherboard Review
Author:

Dennis Garcia
Published:
Friday, March 06, 2020

Onboard and Included Features
The I/O panel is rather self explanatory thanks in part to the completely integrated I/O shield which also becomes part of the shroud. At the top there are the two Wi-Fi antenna followed by two USB Type-C Thunderbolt connections, Next you'll find two Display Port connections which allow this motherboard to serve up video despite there being no video controller on the CPU. Next is a standard 1GB Intel Ethernet connection and USB 3.1 Gen 2 connectors followed by one of the new 10GB Ethernet ports and two more USB 3.x ports.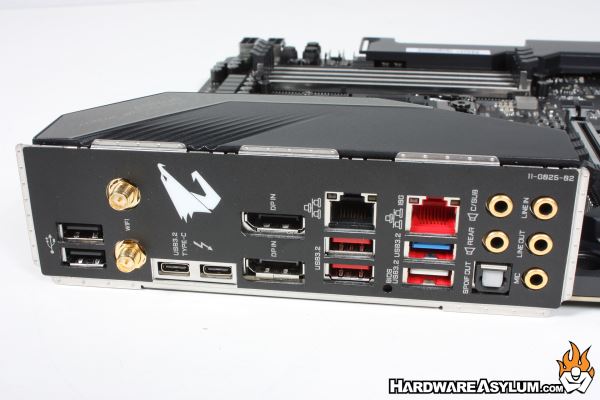 The onboard audio solution found on the Xtreme gold plated jacks and supports 8-channel audio.
Onboard Audio
Onboard audio is built on a dual sampling of the Realtek ALC 1220-VB and ESS SABRE 9218 DAC so that both headphone audio from the front panel and 7.1 channel surround sound from the rear connections. They will both enjoy the benefit of ESS SABRE True Hi-Fidelity Audio.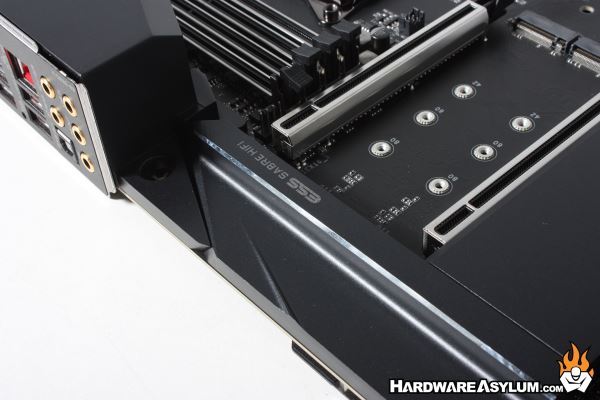 For this review I only tested the rear speaker output however, in my experience the ESS SABRE DAC is quite good and only limited by the audio connections in your case and quality of your headphones and speakers.
Included Goodies
We have come to expect more goodies from our high-end motherboards to help justify the additional cost. In addition to the super slick AIO Watercooling monoblock Aorus has included some really good stuff with their motherboard and is pictured below.
In terms of documentation you will get very healthy users guide which will help you locate all of the key components on the motherboard and can even help troubleshoot POST codes in the event you have problems booting. High-end motherboards really require that a user's manual be included especially for users that don't get the opportunity to build 2-3 machines a week.
The basic accessories include SATA and LED strip headers, two external Wi-Fi towers, some replacement screws, wire wraps and a pretty awesome metal USB drive with every driver and application this motherboard will need.
To wrap things up you'll get a pretty cool set of stickers to help dress up your build.