Aorus X299X Xtreme Waterforce Motherboard Review
Aorus X299X Xtreme Waterforce Motherboard Review
Author:

Dennis Garcia
Published:
Friday, March 06, 2020

Board Layout and Features Continued
Benchtop controls are located at the upper right and bottom of the motherboard. These consist of the standard set of controls including a lighted power button, OC button (for auto overclocking) OC Ignition, CMOS Reset and Reset button. Around this location you'll also find two of the four RGB LED header pins, and several 4-pin PWM fan headers.
The main 24-pin power connector is mounted 90 degrees on the edge of the motherboard and covered in a plastic shroud mostly for decoration.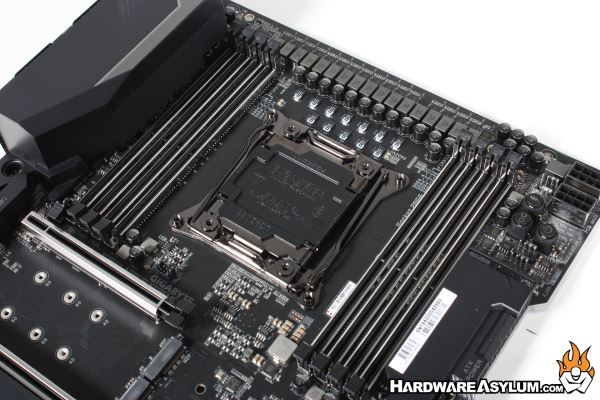 Quad channel memory comes standard on the X299 processor platform however there is a Kaby Lake LGA 2066 that is only dual channel. Aorus doesn't mention if that processor is supported and to be honest I wouldn't expect anyone running this motherboard to be using one. The X299X Xtreme Waterforce accepts standard speed DDR4 modules at 2133Mhz with overclocking support up to 4400Mhz+. A maximum of 256GB is addressable across the eight available memory slots. Keep in mind anything faster than 2133Mhz is technically "overclocked" and may (or may not) work correctly depending on your processor.
The Xtreme comes with three M.2 slots and they are both hidden under the AIO watercooler and will be fully watercooled with the rest of the system. Due to this you will have to remove the monoblock to service the drives which is really the only downside to this particular implementation.
Internal SATA connections number eight and follow the new SATA6 connection standard direct from the chipset. Next to the SATA block you will find a single 6-pin PCI Express power connection for PCI Express stability and you'll get a great look at the X299 chipset just chilling by its lonesome.
Just about every modern motherboard features some sort of RGB lighting system. Of course there are a few exceptions but for the most part that is true. The Aorus X299X Xtreme has a number of lighting zones including an edge lighting along the right side of the motherboard. You can see the diffuser under the SATA connections used to spread the light. This strip runs the entire length of the motherboard and can be controlled using the Fusion RGB software.
Personally I like how the diffuser blends in with the backplate and technically hides the edge of the motherboard from view.